Kate Huether (BS '13) Shares How Stern and Consulting Prepared Her for a Career in Medicine
—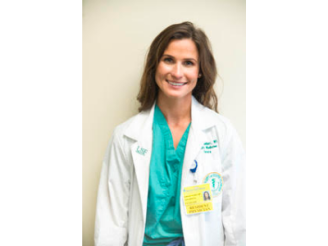 Kate is a resident at the University of South Florida where she splits her training between in-patient hospital care and internal medicine in the primary care setting. She shares how her business background helps her manage patient care, what contributes to burnout when it comes to managing Covid-19, and her favorite place to vacation--plus tips for a healthy start to the day.  
---
What motivated you to shift from business and consulting to a career in medicine? 

I had always been interested in medicine and had exposure to medical professions through my high school friends' parents. But my family was in business and real estate, so when I was growing up, I wanted to build hospitals. It was natural for me to go to business school, and while at Stern, I took pre-med classes at NYU.
---
You have a side business focused on lifestyle and preventive medicine. During these stressful times, do you have advice for working professionals on how to stay healthy?  

I had thought that when the pandemic started that people would no longer have an excuse for not exercising or eating well, because they had more time on their hands. But the opposite has been true. People fell out of their routines and many of my patients gained weight. 

My advice is really about a mindset switch, and finding a new routine and sticking to it. How you start your day is the most important part. Breakfast should come after a 12 hour fast and be at the same time everyday because a consistent schedule helps with circadian rhythm. And breakfast should include fiber, fat, and protein--so I always recommend smoothies and share recipes with patients. Getting exposure to sunlight in the morning is also important and can mean just looking out of a window or stepping outside. Last, have boundaries between work and life so there is a clear start and an end to the day. 
---
We hear a lot about healthcare worker burnout from managing Covid. What has been your experience?

Burnout is real, and there are many layers to it. From my perspective as a medical resident, the learning opportunity is limited.  Because 90 percent of our patients are in the ICU for Covid, much of my time is spent managing Covid patients as opposed to seeing a range of emergency cases. So that's been frustrating. Burnout also comes from having to treat something again and again that is largely preventable. The vast majority of patients in the ICU on ventilators are unvaccinated. It is frustrating that there is so much misinformation and miscommunication out there that can lead to bad outcomes--and that contributes to the burnout.
---
What drew you to NYU Stern for your undergraduate degree?

I grew up in Florida, but NY was a natural draw because of the city and being in the center of everything in Manhattan. Plus, I loved that Stern is a small program within a large University. My class sizes were small and I also liked that the program had different tracks. When I meet someone who says they also went to NYU, I always say, 'yes but I went to Stern'.
---
What are your favorite memories or most valuable experiences from being at Stern?

Going to Singapore for the International Studies Program was one of my favorite experiences. 
---
How has your business background and time at McKinsey helped with being a doctor?

It helps a lot. I bring a business perspective to my work in medicine, which is different than most of my peers. For example, I pay attention to the financial aspect of healthcare and am often blown away by the costs. I also use a structured approach to medicine that I learned from McKinsey that helps me assess medical issues holistically, without jumping to conclusions too early. Having a structured, process-oriented way of looking at patients and what comes next is something I learned at Stern and in consulting.
---
How have you stayed connected to Stern over the years? 

I keep in touch with the friends I made at Stern and I would like to get more involved with the alumni community. 
---
Where did you go for your last vacation? 

I just got back from Vail. I love skiing and Vail is my favorite place, and pretty much my go to for all my vacations.
---
How do you like to spend your free time? Any interesting hobbies?
 
I like to run. When I had more time I was into endurance sports and did a marathon and a half Iron Man. And, I know this sounds funny, but I also like to clean and organize my apartment. I find that relaxing.