Susan Salgado (PhD '03): Creating Better Workplaces
—
By Kerry Wimley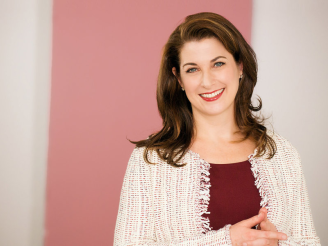 Susan Salgado (PhD '03) walked up to celebrated restaurateur Danny Meyer as he surveyed the room from the second floor of his restaurant and introduced herself. She shared how consistently excellent the service was at all of his restaurants, explained that she was a PhD student in organizational behavior at NYU Stern, and asked him for a meeting.
Salgado had been studying teamwork, diversity, and feedback-seeking behavior, and was interested in how people could be a source of sustainable competitive advantage. She planned to ask Meyer about how he maintained the superior standards inherent in his restaurants. What she learned was that Meyer's process was undefined—his leadership was intuitive and fluid, and it created a culture of teamwork and grace that leads to a memorable customer experience. "The magic happened because he created structure, but left room for people to swim around within that structure and be themselves," said Salgado.
Meyer agreed to let Salgado study his restaurants on the condition that she do so from within, so from the hostess post at Union Square Cafe, Salgado began the research that would inform her dissertation at Stern. When she shared her findings, Meyer brought her on as the Director of Culture and Learning at the Union Square Hospitality Group where she focused on building the culture across brands, including the growth and scaling of Shake Shack.
In 2010, Salgado and Meyer launched Hospitality Quotient, a consultancy under the Union Square Hospitality umbrella, with the goal of helping other companies create cultures that would support positive outcomes. Salgado continued this mission in 2017 as she spun off her own company, Grason Consulting, with Meyer's support. "I think of my work's purpose as making the world a better place by creating better workplaces. We spend so much time at our jobs. When people are unhappy at work, they take that negativity home, affecting every aspect of their lives from their health to relationships with friends and family. Making workplaces positive and more fulfilling, to me, is a way to improve our society."
Reflecting on her career path, Salgado recognized how important it was to be open minded about how passions can manifest themselves. She started by focusing on the people she wanted to work with, and narrowed in on the subject matter and function along the way. "Sometimes it's a circuitous path to get where we need to be next, but that's kind of the fun of it."