A Blueprint for Expansion
—
With the new Chen Institute for Global Real Estate Finance, NYU Stern grows its footprint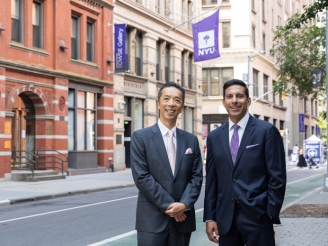 Last September, NYU Stern established the Chao-Hon Chen Institute for Global Real Estate Finance with a $20 million gift from Charles C.Y. Chen (MBA '91) and named Professor Sam Chandan the Institute's director. With that action, Stern moved deeper into a vast and expanding territory, rich with potential as new technologies and a demand for sustainability disrupt the landscape.
Chen, a member of Stern's Executive Board, is chairman of Eyon Holding Group, a direct investment group in Taiwan. The Institute is named for his father. "Charles' generosity and vision present a tremendous and especially timely opportunity for Stern to lead in reshaping the dynamic real estate industry, which is currently undergoing significant transformation due to the myriad global, economic, finance, and climate forces at work," said Raghu Sundaram, Dean, NYU Stern. Chandan, former director of the School's Center for Real Estate Finance Research (now a part of the new Institute), has gotten off to a fast start, increasing the number of relevant classes offered by 40%, leading on-the-ground immersive global courses for MBAs specializing in real estate, appointing an executive-in-residence, launching new advisory and alumni boards, and organizing national conferences.
Chandan spoke enthusiastically about what he listed as Stern's "natural advantages" in its quest to attract—and train— the best and brightest in the global real estate finance field. "We're building on an extraordinary foundation, the 10-year-old Center for Real Estate Finance. New York is the global capital of the real estate industry. NYU is uniquely positioned because we have a deeper and more substantial global infrastructure than any other institution of higher learning that I'm aware of. And we have a world-renowned faculty, an incredible bench when it comes to scholarship and applied research in areas that relate to real estate."
 
Interdisciplinary Initiatives
The plan is to leverage Stern's advantages to advance learning and research in four new, interdisciplinary initiatives, in areas that each fundamentally disrupt real estate on a global scale: real estate finance; data science and property technology, or prop tech; climate change; and emerging real estate markets. To accomplish this, the Institute will award scholarships to undergraduate and MBA students studying real estate; host scholars and fellows-in-residence—the inaugural Executive in Residence is industry veteran William Ferguson, Founder and Chairman of Ferguson Partners; partner with centers of excellence at NYU and its global campuses; and provide research grants and other support to faculty and doctoral students from across the University.
Events and immersion programs launched by the Institute pepper the 2022-2023 academic calendar. September saw the Emerging Women Leaders in Real Estate Series; in February, funded by a gift from Stern board member Franck Ruimy (MBA '02) to expand global immersion experiences, Chandan led a successful field-intensive program in London, attended by 25 MBA students, with similar programs planned to Abu Dhabi and Dubai, Rio and Sao Paolo, and Paris and Amsterdam. Also in February, the Institute hosted the InnovateESG conference in New York, and two more conferences are in the works: an LGBTQ real estate conference hosted with Deutsche Bank, one of the largest in the industry, and a conference on investment in underserved communities.
Programs under the umbrella of the Institute are aimed largely at deepening and enriching the student experience. In addition to the global immersion programs that will include new curricular and co-curricular initiatives will include a fellows program for second-year MBA students, CEO lunches, and mentoring, among others. Among the new course offerings is Real Estate Data Science, Artificial Intelligence, and Machine Learning, a foray into the applications and implications of artificial intelligence and machine learning in real estate decision-making. 
Faculty research is another key development area. Chandan envisions creating channels to amplify the work faculty have done and also to support it by hosting visiting scholars for collaborative projects and deepening industry engagement. He believes faculty can play a key role in helping to shape the industry's conversation and transformation through translational research. On his wish list is a format and structure for alumni practitioners to gather and interact with students and faculty both. "We want to inform the policy conversation around how we think about the built environment. Among other issues, we are tackling that climate change is the existential issue of our time and presents probably the most significant challenge and opportunity in the real estate industry."
Another area of focus—one with a high degree of student interest—is prop tech, which overlaps with fintech and data science and refers to the application of technology and new platforms to the real estate indsutry. Courses will explore technology innovations in determining how space can be most efficiently and sustainably used, the relationship of types of space in the context of cities, and making buildings greener.
Preparing students to operate anywhere in the world is central to the Institute's mission. "There is a feature of real estate that is very local, but the opportunities to engage globally are tremendous, whether as a developer or as a source of financing on the debt or the equity side," Chandan said. "We want to inform our students with skills that are transferable, so that whether they decide to pursue a career in New York, London, Shanghai, or Mumbai, they will have a robust set of foundational skills that they can engage to pursue opportunities anywhere in the world. What better place to do this than here at Stern, where we have access to an unparalleled global infrastructure."
Learn more about the Chao-Hon Chen Institute for Global Real Estate Finance.
---
Q&A with Sam Chandan, Director of the Chao-Hon Chen Institute for Global Real Estate Finance
Q: If hybrid or remote work remain the new normal, how can midtown Manhattan and other urban centers adapt to this changing landscape?
A: We have to face a very real challenge from decreased utilization, especially in older office buildings that lack the amenities of new buildings. There is a range of repurposing options. In buildings where the floor plate is simply too big for apartments, alternative uses include life sciences spaces, data centers, even warehouse distribution. Difficult choices will need to be made by property owners, repositioning neighborhoods as vibrant, mixed-use, 24-hour communities. Districts that are dominated by office space face the most significant challenges.
 
Q: Where does sustainability fit in?
A: The most significant challenges we've faced in improving our carbon footprint are in our legacy cities like New York—a reflection of the age of the building stock. Relatively newer cities are better positioned. New York City has passed some controversial local laws that mandate improvements in buildings' energy profiles, but new financing mechanisms to make those improvements more cost-effectively are needed. Many European capitals are introducing stricter ESG mandates, partly motivated by investors, and a building's carbon profile is part of the investment criteria. The Institute is collaborating with Stern's Center for Sustainable Business and others on initiatives that will support a more sustainable, inclusive, and resilient urban economy in New York City.
 
 Q: Home ownership is considered the main way to build generational wealth, but that goal seems increasingly out of reach for the younger generations, those now in their 20s and 30s. What's the solution?
A: Home prices have been increasing largely as a reflection of our bringing very limited new inventory to the market. We have not built that many single-family homes. Demographic changes, hybrid work, and shifts in housing preferences post-pandemic are also factors. We then experienced the most significant deterioration in affordability in modern history, mostly because of the extraordinarily abrupt increase in the cost of mortgage financing in the US and elsewhere. This affects younger families and more income-constrained families, so there are policy implications beyond the housing market. The most critical part of the solution is to build more homes, but the market is supply-constrained by the lack of availability of land, construction financing, and skilled construction labor. Most importantly, local zoning laws often limit the introduction of smaller homes and higher-density inventory, and there's not much federal policy can do to influence that. The design of new communities becomes important, along with access to public transportation. When the suburbs were built, we weren't thinking about our carbon footprint. But the implications for sustainability factor here as well. One of the clearest ways to imporve housing's sustainability footprint is to permit higher density near public transportation.