A Lasting Legacy: The Christine A. Schneider Scholarship
—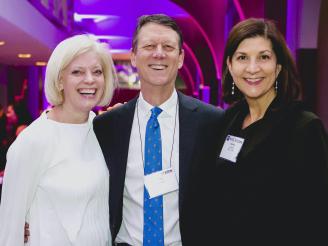 Described by those who knew her as well-traveled and well-loved, with close friends around the world, Christine Schneider (MBA '94) left an incredible legacy to generations of NYU Stern students when she passed in April 2020. Starting several months before she lost her courageous battle to breast cancer, Schneider made the decision to leave a transformative testamentary gift, which ultimately resulted in $4.3 million toward undergraduate scholarships at the School. In order to realize her vision during her lifetime, she chose to also provide an immediate use gift to establish a scholarship fund in early 2019.
Schneider was managing director of Jennison Associates, prior to which she was executive director and head of consultant relations for the Americas at UBS Asset Management and earlier an executive at DB Advisors and Oppenheimer Capital. As her family shared, "She was self-assured and courageous and could give a presentation to CEOs of Fortune 500 companies without breaking a sweat. As she ascended through the ranks she never forgot where she came from. She was a mentor to many and always helped the people around her achieve their highest potential."
That instinctive desire to reach out and support others was clear during and after her time at Stern. Schneider was a long-time volunteer, former chair of the Stern Alumni Council, and an instrumental part of the establishment of the Stern Women in Business (SWIB) Alumnae Committee. She also helped found the Career Center for Working Professionals.
According to Amanda Parker, associate dean for Development and Alumni Relations, Schneider hoped to encourage more young women to pursue a business education and become leaders in every industry. "Christine's wish was that young Sternies could learn and benefit from the careers of alumnae like herself and feel emboldened to dream big."
At Stern, the Development Office partners with alumni to find funding opportunities that meet their interests and align with the assets they hope to leave to the School. Some alumni are able to realize part of their legacy during their lifetimes through gift annuities and trusts and others solely through bequests and retirement accounts. All are equally important to the future of Stern and include membership in the Society of the Torch and associated benefits.
Says Parker: "Christine felt fortunate to have studied at Stern and wanted to offer the same opportunity to all Sternies, regardless of their ability to pay. Christine's gift will support countless students through their time at Stern, promoting the success of future business leaders and continuing the support she provided during her lifetime."
---
Image: (from right to left) Christine Schneider (MBA '94), Todd Spillane, and Susan Jurevics (MBA '96) at a Stern Holiday Celebration.