NYU Stern Honors Dietrich Becker (MBA '91) at the 2023 Haskins Giving Society Award Dinner, Recognizing his Extraordinary Partnership with the School
—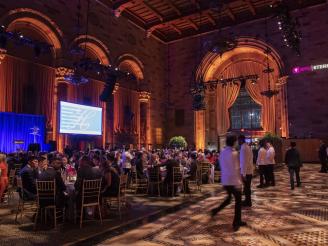 Hundreds of the School's most loyal and generous donors came together for the annual Haskins Giving Society Award Dinner, held this year on April 19 at Cipriani 42nd Street. The School was delighted to celebrate and thank our donors and to honor Stern Executive Board member and dedicated champion of the School, Dietrich Becker (MBA '91), a Founding Partner and President of Perella Weinberg Partners, based in London, who has served as Head of PWP's European business since 2017 and as Co-President of the firm since 2020. Becker has played a critical role in spearheading efforts to build a strong network among Stern students, alumni, and parents in London.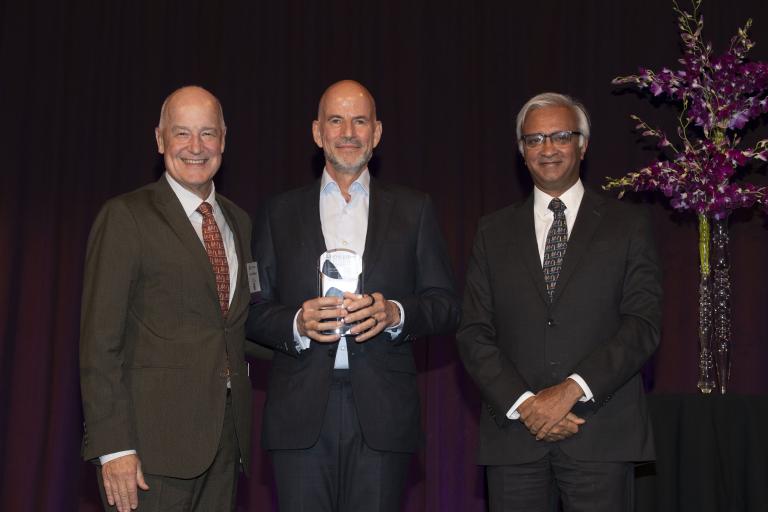 "We are thrilled to honor Dietrich as this year's Haskins Honoree," said Raghu Sundaram, Dean, NYU Stern. "This is a very special award that celebrates a member of our community who has gone above and beyond to advance the School's mission. Dietrich does this in spades, and we are so pleased to be able to say thank you with this award."

During the evening's program, Dean Sundaram and NYU President Andrew Hamilton shared exciting updates and points of pride about NYU Stern and the University. Guests had a chance to watch a tribute video honoring Becker for the many ways he has given back to the School, including his years of service on the Executive Board, his ongoing mentorship of students and colleagues, and his tireless efforts to bring the community together.

This year alone, Becker has led two separate Fireside Chats in London with Dean Sundaram and Stern Professor Scott Galloway where NYU Stern students, alumni, and parents were invited to attend.
NYU Stern Honors Dietrich Becker (MBA '91)
Watch the Dietrich Becker tribute video.
WATCH THE VIDEO
Photo Album
See photo highlights from the Haskins Award Dinner.
VIEW THE ALBUM