Kaedrea Jackson (MBA '18), MD, MPH, Shares the Value of Combining Her Medical Background with Business
—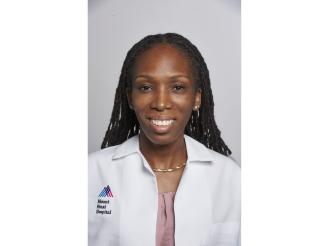 NYU Stern Program
: Executive MBA
Company
: Emergency Medicine, Mount Sinai Morningside 
Title
: Medical Director
Industry
: Healthcare
Kaedrea Jackson (MBA '18), medical director of Emergency Medicine at Mount Sinai Morningside,
made headlines
as one of the first healthcare providers to receive the Covid-19 vaccine. Here she talks about her experience with the pandemic, what drew her to medicine and then business, and what she loved the most about the Executive MBA program. 
---
As a medical director, how did you help your team stay strong during the pandemic? What lessons did you learn from this experience?
As medical director I led a team of approximately 54 attending physicians, 60 resident physicians and 12 physician assistants. We prepared for the pandemic as much as we could by ensuring workflows, equipment and supplies were in place for the anticipated patient volume. The first wave of the pandemic challenged our department, hospital, city and the entire healthcare infrastructure. Standards in place for years had to be changed in hours. Workflows were consistently being changed. The number of very sick patients coming in was overwhelming. Healthcare workers were scared.  
During the pandemic, my team needed a leader, a colleague and a friend. Every day for weeks was a workday with long hours. Although draining, that physical presence was needed. Frequent communication was key to strengthen and support my staff. I had to develop, introduce and implement new surge plans, workflows and technology to meet our patient needs. I've learned from the pandemic that you can never over prepare. Cliché but so true. In addition, healthcare as an industry must embrace transformation. The standard care delivery model has rarely changed. Covid-19 has shown healthcare leaders that we need to be forward thinking and innovative as we encounter new or evolving challenges.
---
What was it like to be among the first to receive the Covid-19 vaccine and be part of history?
Receiving the vaccine, I definitely was not thinking about being part of history. There has been so much loss of life, I just wanted to do my part in getting to a better tomorrow.
---
In your experience, what approaches are needed to encourage the public to be comfortable with getting vaccinated? 
The vaccine is new and unfamiliar and with that comes anxiety. There is concern regarding the length of time for the vaccine development. Public health messaging needs to address that. The public needs to be made aware that their safety has not been compromised. A huge roadblock to vaccine development is funding, which was changed to shorten the process. Technology and science have improved over years. The administrative process was shortened. However, public safety is still a priority. No government, company or individual wants a bad vaccine.
---
What drew you to becoming a doctor, and in particular working in the emergency room?
Very simple. As a child I loved science and loved taking care of others. Everyone automatically tells you, "You should become a doctor." Growing up, as I had more firsthand experiences in the medical field this was reinforced. The medical profession allowed me to combine and apply my passion for science with the ability to save and impact lives. I decided to be an emergency medicine physician for that same reason. I am completely aware that my job location is the last place anyone wants to be. No one wakes up in the morning, excited about going to the emergency department (ED). Every day in the ED is different. There is variety in patients, clinical presentation, acuity, etc. What remains the same is my commitment to caring for whoever presents at the door and the chance to impact their life.
---
Why did you decide to pursue an Executive MBA? 
While aware of the enormous value of medical knowledge, I understand that business and finance have become increasingly more important in health care delivery.  To take my impact from just the individual patient-physician encounter, I felt it necessary to become a leader in healthcare management. Personally, I wanted additional training and skills in finance, operations, leadership and management. This led me to pursue an MBA.
---
What were some of the most valuable experiences and learnings you gained from the Stern EMBA program?
The opportunity to learn from faculty who are committed to my understanding and leaving a lasting impression. My Pokey figurine that I received in Advanced Topics of Communication sits on my desk to this day and serves as a constant reminder of my abilities. Stern was not about being present in class and passing a test. Each class offered an opportunity to apply what you learned. For this I am forever grateful.
---
What are some of your favorite Stern memories?
Definitely the Global Study Tours. Both were extraordinary learning and life experiences. Prepping for the presentations, especially Advanced Topics of Communications. I can't forget about Negril Village lunches with the All of Us WhatsApp group.
---
How do you stay connected to Stern? 
When possible, I have attended and participated in Stern sponsored events. I am in constant communication with multiple of my A-18 colleagues. 
---
As a mother of three with a demanding job, how do you unwind?
To ensure I spend as much time as possible with my husband and kids, my relaxing time is typically spent with them. Helping with schoolwork, reading, playing games, simply talking, etc. They are the best part of every day so just being around them is all I need to unwind.
---
What are your favorite activities that you enjoy in NYC with your family? 
We are big fans of church, any NYC zoo and the NY Hall of Science. Once the pandemic is over, we are looking forward to resuming our visits.
---
Any favorite shows you are streaming these days? 
I've streamed so many shows over the past few months. During the pandemic I completed all 7 seasons of Blacklist to get me ready for season 8. A few weeks ago, I completed the Mandalorian series and I am looking forward to the release of The Book of Boba Fett. Most recently, I watched the premiere season of Bridgerton on Netflix. I am hooked.