Alumni in Action
—
Stern's new Executive-in-Residence Program is a hit with students and execs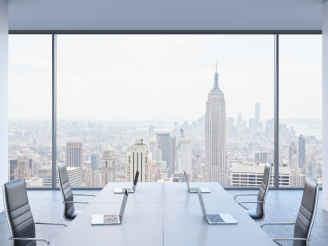 NYU Stern students love interacting with alumni, and alumni feel rewarded interacting with students. That's just one of the takeaways from last fall's launch of Stern's inaugural Executive-in-Residence (EIR) Program.

The Program was conceived as a way to help bring together students, faculty, and administrators with alumni leaders across a wide range of industries, with a particular focus on less-structured recruiting paths. Ten executives, all Stern graduates, agreed to take part in the first iteration of the Program, which required them to spend two half-days on campus, one in the fall and one in the spring, conducting one-on-one meetings with faculty, staff, and students, plus a broader group session over breakfast or lunch. Several EIRs also hosted group treks at their offices.

The EIR sessions were open to full- and part-time MBA students along with Executive MBAs and undergraduates. A total of 329 students participated this fall, averaging 38 students per session, generating overwhelmingly positive feedback. As one MBA participant wrote, "Love this program! It's so wonderful to have the opportunity to have these kinds of spaces with esteemed members of the Stern alumni community and learn from their experiences in a manner that relates to my personal path. It's incredible that Stern has kicked off this program, and I highly recommend it to all those in the MBA programs."
The executives who participated were also enthusiastic. Said Gali Heichal (MBA '07), global head of payments partnerships at Klarna, "Helping people develop their careers has always been a passion of mine. Aside from that, I remember how much I valued the opportunity to form relationships with professionals in industries that I was interested in while I was an MBA student, and being an EIR gives me the opportunity to pay it forward. Finally, I love meeting new people, especially smart, talented and creative people, and on Stern's campus they are in abundance." 
Echoed Mahesh Krishnamurti (MBA '80), a board director, ESG/Impact Advisor, investor, and transformation leader, "The opportunity to interact with a cohort of bright, experienced MBAs and discuss topics that are important to them, presents a powerful process of self-discovery away from the workplace. I would highly recommend the Stern EIR experience.  It is well-organized and designed to enrich seasoned professionals, entrepreneurs, and students alike, providing aspiring MBA students with insights on how their MBA degrees could be applied in different ways to real-world challenges in order to have a positive impact on society."
The industries represented by the EIR invitees were selected after careful consultation among the MBA Program, Alumni Relations and Corporate Relations teams. "Our aim was to identify individuals we felt best represent alternate industries, beyond traditional financial services, where we've seen an uptick in interest," said Kate Gregory, Senior Director of Corporate Relations. "The pleasantly surprising result was that we asked our 10 top choices and all 10 said yes!"
The inaugural members of the Executive-in-Residence Program were:
— Scott Havens (MBA '99), CEO, Bloomberg Media
— Gali Heichal (MBA '07), global head of payments partnerships at Klarna
— Ali Heron (MBA '13), CTO, Petal
— Jordan Hoffner (MBA '01), COO, Samsung Next
— Mahesh Krishnamurti (MBA '80), a board director, ESG/Impact Advisor, investor, and transformation leader
— Oskar Lewnowski (MBA '95), CIO, Orion Resource Partners
— Michael Nogen (MBA '11), managing partner, Overton Venture Capital
— Brian O'Connor (MBA '99), partner, Ares Management Corp.
— Carol Schafer (MBA '92), managing partner, Hyphen Advisors
— Karen Weinseiss (MBA '94), senior vice president, operations, Health First