Students Learn Firsthand From Alumni in the Field
—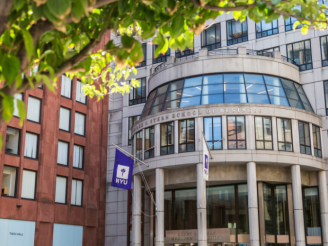 The ability to easily tap into the expansive NYU Stern alumni network for industry insights and job opportunities brings enormous value to students who are charting their career paths. To help facilitate this exchange of information, the Corporate Relations team organizes educational networking events, oftentimes in partnership with student clubs. Depending on the lineup of speakers, many of whom are alumni, the Corporate Relations team will reach out to different student clubs that may be interested in the topic or background of the speakers —for example, an event with Tyler Evans (BS '16), senior infrastructure administrator at KKR, is a military veteran and currently works at an investment firm, so students from both the Stern Private Equity and Military Veterans clubs were invited.

"The goal of these events is not only to highlight Stern's amazing and diverse alumni but to ensure that current students have access to engaging and educational programming that's relevant to their specific industries," said Kate Gregory, senior director, Corporate Relations. "It's a great opportunity to partner with alumni who are eager to engage with Stern students."

This academic year, there have been 12 events. Three areas of focus this year have included healthcare, technology, and private equity and venture capital. With healthcare and tech, the panel featured incumbent players such as Novartis with the help of alumnus and Associate Director of New Products Suhash Patel (MBA '23) along with Stern Tech MBA Advisory Board member Stephanie Glenn (MBA '09), senior vice president, marketing cloud sales, Salesforce, and Risa Fisher (MBA '96) EVP of marketing at Progeny. The Private Equity panel touched on key areas from infrastructure to capital markets and distressed investing to early stage investing and featured Chirag Shah, principal, Define Ventures, and Gary Survis (MBA '92), operating partner, and Whitney Rothe (MBA '13) senior director, marketing, Insight Onsite at Insight Partner.