Stepping Up to the Plate
—
Baseball drafted Caroline O'Connor from Wall Street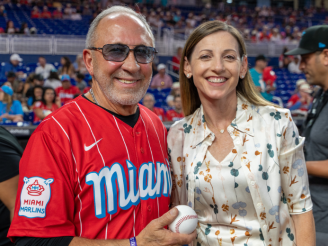 Caroline O'Connor (MBA '08), pictured left with Emilio Estefan at a Miami Marlins game, had her "aha moment" about her professional future while in her corporate finance class at NYU Stern. At the time, she was a senior IT specialist at IBM attending what is now the Langone Part-Time MBA Program at night, which had attracted her because of its "great environment." "That's when I went from being an employee to really understanding how companies are run," she said. For the next decade, O'Connor worked on Wall Street, first at UBS, then rising to managing director at Morgan Stanley.

Little could she foresee her next career move. Today, she is enjoying sunny Miami as the first female president of business operations for the Miami Marlins, the Major League Baseball team.

A New Jersey native, O'Connor grew up with seven siblings, including four older brothers, so she was hardly a stranger to team sports but had never considered she'd be part of "The Show," as Major League Baseball is dubbed. In 2017, when she was first approached about joining the Marlins, the offer came out of left field, she remembered recently. "I was very happy at Morgan Stanley and wasn't looking," she said. "But the more I found out and thought about it, it seemed so interesting, and the opportunity of a lifetime."
The team, which has won the World Series twice, had recently changed ownership and was going through a transition. O'Connor saw that the mission for the business side was clear. "Over the past few years, a large number of people have moved to the Miami area, so there was a huge opportunity in the marketplace to increase the fan base."  

After moving steadily up the organization chart from senior vice president to chief operating officer, O'Connor was promoted in November 2022 to president, making the Marlins unique in MLB in having women in the top two roles: Kim Ng is general manager. 

That distinction doesn't occupy O'Connor. "If you ask either of us, I think we're so used to going about our business that we notice it a lot less than other people. People were coming off the field and going into the management roles, and that was just their talent pipeline, so they were limited in the diversity they were getting. I think it's going to be a big few years here with the number of women I see getting hired and rising through the ranks of sports organizations. It's very promising to see."

As O'Connor moved up in the organization, her responsibilities expanded from corporate governance, checks and balances, board issues, and the like, to taking on more on the revenue side. Building the fan base is part of that, and O'Connor oversees an operation that relies heavily on business analytics and social media to understand how to reach people, what packages appeal to them, and learn how the brand is regarded.

To get to know her customers personally, she attends all 81 home games and also connects with the wider community through memberships in local organizations. "We try to make Marlins fans out of the younger generation, because the team was only established in 1993, so it didn't exist when their parents were kids."  Sponsoring t-ball leagues, outfitting the kids with Marlins T-shirts, and family days at loanDepot park are both fun and strategic, she added. "I love seeing the kids coming through the doors with excitement in their eyes, wearing their favorite player's shirt."

Soon, O'Connor will be greeting Stern alumni coming through the stadium doors when she hosts an alumni event at the ballpark. She's also stayed connected to Stern in other ways, participating in a Stern Chats podcast and making herself available as a mentor.

For relaxation, O'Connor enjoys the surrounding cultural life in and around Miami with her family, and many weekends finds herself at somewhat smaller ballparks, in the cheering section at her two boys' Little League games.