Jolawn Victor (MBA '09), Chief International Officer at Headspace, Shares Her Career Journey and Why Mindfulness and Meditation Have Gained Popularity, Especially in the Workplace
—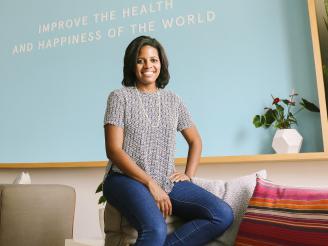 Jolawn Victor shares her journey from consumer packaged goods engineer to C-suite executive responsible for sales and marketing across an international portfolio. She talks about how to create a culture of openness through her leadership style, what companies need to do to truly be diverse and inclusive workplaces, and why mindfulness and mediation have gained popularity.
---
Tell us a little about your career journey from consumer packaged goods engineer to running an international business.
While I was at General Mills working as an engineer, my mentor, the Chief Diversity Officer, saw something in me and thought I would enjoy strategy and marketing. He proposed the idea of an MBA and introduced me to a world of programs that support women of color, like The Consortium, that I had no idea existed. I was attracted to the real-world focus of studying business and decided that an MBA made sense. During that time, I was able to shadow female leaders of color at different companies and learned that marketing was a path I was interested in. 
When I eventually transitioned into marketing and product management, I found myself working in emerging markets, which gave me a multi-faceted deep knowledge of many areas from HR to finance. At a certain point, I realized that my background in engineering, product management, and marketing set me up well for becoming a general manager, and I gravitated toward tech because the lead time to see impact through data is much faster compared to CPG. And when a former boss who became the CEO at Headspace asked if I was interested in helping scale the international business, I took that opportunity and relocated to London, where I am still in a general manager role with a focus on sales and marketing internationally.
---
What has been one of your proudest career moments? 
I like to leave a legacy in whatever role I am in. By implementing a durable strategy and a strong team of diverse and amazing leaders, I can feel good about making an impact even when I'm no longer at a company. Not two years out of my previous role, the leadership team is still in place and the strategy is still yielding dividends. It makes me proud knowing that I left a positive lasting imprint.
---
Why do you think meditation and mindfulness have become more popular now compared to 10 years ago? 
It's always been important, but now it is OK to talk about mental wellness, stress management, and burnout at work. Plus, technology has played a key role as apps have enabled large scale access to mental wellness services like never before. It's easier to open your app than to make an appointment with a mental health expert.
---
Do you see variations in how different countries approach meditation and mindfulness?
Absolutely. There is a spectrum of acceptance toward mental health across countries. For example, the US is more receptive, whereas in France, the word mindfulness doesn't exist so we have to talk about it in a different way. On the other hand, Germans tend to feel more comfortable with positive language, so we focus on the benefits of meditation and mindfulness and the evidence of impact. Overall, each country has a different healthcare system and attitude toward mental wellness that we adapt to.
---
What is your approach to team management and how can organizations build strong healthy cultures with remote or hybrid workplace models?
My leadership traits are defined by authenticity, storytelling, and being open and accessible … and, in general, changing expectations around the cultural norm of what makes a leader. It can be disarming but also a connection point that creates a more open culture.
During the pandemic, we lost the less structured times when you could debrief about a difficult meeting over lunch, for example. Those organic places of connection don't exist with remote work. So I try to replicate that unstructured time together via a Zoom where we can just connect as a team, talk about the weekend, ask about a project, or just listen in … without an agenda. We need to create the time to wander in conversation and let relationships organically form and mature.
---
Have you encountered any challenge as a woman in the C-suite? If so, how did you overcome them?
I have often been the only woman of color at the leadership level. Companies are addressing this lack of representation, but they range, and in tech, there's work to be done. But I focus on how I can deal with it. For example, when working with agency partners, I make sure that they have inclusive hiring practices and promote people of color and women at the same rate as everybody else. It's not enough to have token representation. I like to say, you measure what you treasure. If something matters, a company will put success metrics behind it, and diversity can be measured just like any other growth driver.
---
What drew you to Stern for your MBA?
The people. My husband, Kevan Victor (MBA '09) and I both decided to do our MBAs at the same time and school. When we attended Stern's accepted student day, I got the feeling that these were my people.
---
What were some of your favorite or most valuable Stern experiences? 
The classes were great, and I still draw on what I learned in a management class that emphasized soft skills like listening and reflecting. I also keep in touch with friends, and those from the Association of Hispanic and Black Business Students (AHBBS) group. We've had a Girl Text Group for 12 years; everyone should have that. I also remember Gary Fraser, who was then the dean of students, and is now Stern's dean of diversity, equity and inclusion.
---
How have you stayed connected to Stern over the years?
I have sponsored a Tech MBA project, spoken at an admitted student virtual event last year and in a Tech MBA class for Wayne Suiter. This year I will be participating in a SWIB-hosted Masterclass with fellow classmate Kimberley Nixon (MBA '09), about workplace wellbeing on Feb. 17.  With virtual, it is easier to get involved.
Learn more about the
SWIB Alumnae Masterclass: A Conversation on Workplace Wellbeing with Jolawn Victor (MBA '09)
on Feb. 17 at 12:00 PM EST.
---
Where did you go for your last vacation?
I went to Copenhagen with my husband and three kids. We did a lot of biking and Kevan got a good workout pulling our two younger children in a bike cart.
---
How do you like to spend your free time? Any hobbies?
Just trying to keep my kids safe and well takes up most of my time. I also started a weight training class that meets three times a week to get rid of my Covid-19 pounds. And I am the unofficial sounding board for the marketing strategy for my husband's financial coaching business, which is fun.