From Hollywood to Nollywood & Back Again
—
Melissa Adeyemo (MBA '16) makes African + Black content the focus of her production and consulting company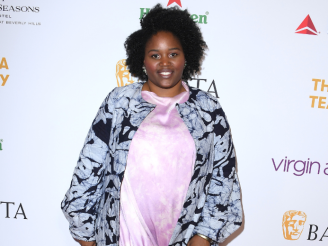 Melissa Adeyemo (MBA '16) counts her NYU Stern MBA as one of the top three formative experiences of her professional career. An award-nominated media, entertainment, and film professional with multinational experience, Adeyemo said that Stern—along with a content production job in Nigeria and an earlier stint at Nickelodeon—"formalized who I am professionally and gave me skills I use on a day-to-day basis."

Adeyemo founded Ominira Studios, a film and TV production house and consulting firm in earnest in 2015 (and officially in 2018). Ominira's mission is producing African and Black content that secures mainstream distribution in the media, arts, and technology sectors, a vision Adeyemo has nurtured since college. She manages the day-to-day operations and resources of Ominira and has produced films that have premiered at international film festivals, like the Toronto Film Festival, Clermont-Ferrand and New Directors, New Films. One of those films, "Eyimofe," premiered at the Berlin Film Festival in 2020 where it was nominated for best feature film, and is the first Nigerian film to become part of the Criterion Collection. The film was nominated for an NAACP award and won five African Movie Academy Awards. Adeyemo is the first African female producer to have her own stand-alone featurette on the Criterion Collection. Her documentary, "Dusty Stones," premiered at the largest documentary film festival in North America, DOC NYC in 2022.

Ominira roughly translates as freedom or independence in the Yoruba, her father's ethnic group, Adeyemo said, which she wanted her company to represent. She grew up in Newark, NJ, in what she calls "a pocket Nigerian community." After a false start as a pre-med student at Columbia, an internship on Spike Lee's film "Inside Man'' propelled her toward film. "It felt like fate, and I haven't looked back," she explained.

A number of production assistant jobs followed, including on Steven Spielberg's film, "Munich," and eventually she landed at Nickelodeon, where she learned how intellectual property rights are the key to exploiting diverse commercial opportunities. With her eye on eventually producing African films, she took a US-based job at a "Nollywood"—a portmanteau word combining Nigeria and Hollywood—online film company called Iroko TV, tasked initially with helping the company look into television opportunities. Then she was asked to start and run a studio business for the company. "I moved to Nigeria to produce content, read scripts, talk to talent, manage budgets, locations, the works. It was incredible on-the-ground training, and I loved every minute."
Ultimately, she realized that achieving her long-term goals would require additional expertise. "The people I was working with—who were in charge of all the business things—all had MBAs. I knew I needed to get an MBA to be successful, and I was drawn to NYU because it has a world-class film school and entrepreneurial, yet globally focused business program."

Stern turned out to be a foundational experience. "Some things that I learned at Stern I still use today—I think a lot about Glen Okun's strategy class on how to move a business from point a to point b now that I am trying to upscale aspects of my business, as well as a strategy class with Professor JP Eggers; Professor Anat Lechner was my leadership professor. Thinking through the holes in the entertainment market is why I chose to focus my business on producing content around Black and African protagonists. There is a wealth of data that shows that money is being left on the table by not integrating stories about these people and their communities in film and television. Stern taught me that one can do good and do well in business, and I am always braiding the lessons from those three teachers on a daily basis." 

After graduation, Adeyemo worked for PwC as a consultant in the technology, information, communications, and entertainment practice. While consulting may seem worlds removed from content production, she sees the two activities as similar. "The biggest parallel is that they both involve storytelling. When consulting, the main job is storytelling. You have a lot of data and use it to tell a story to a client. Now I'm using data and information around the stories I produce to communicate the commercial viability of these films and filmmakers to potential investors—streamers, distribution companies, financiers, investors, and the like. I call it selling the story."

Adeyemo is bullish on the prospects for larger opportunities and broader distribution for Anglo-African and Black content and hopes to continue to produce films, along with animation and games. As she builds Ominira into a larger player, she said that relaxation isn't currently high on her agenda—but with her frequent business travel, she makes a point of finding a museum or a church wherever she goes, and hopes to find herself as a regular at Paris or Milan fashion weeks someday.