NYU Stern Alumni Celebrate Reunion 2023 Weekend
—
From class cocktail receptions to a Broadway show, alumni reconnect over a fun-filled weekend of events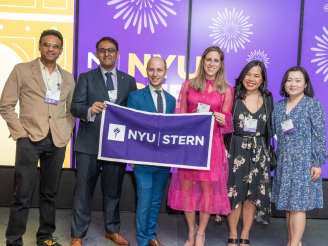 During the weekend of May 5–7, 2023, over 1,600 alumni from the Class of 2022 and class years ending in '8 and '3 registered for Reunion 2023. Planning for Reunion, led by the NYU Stern Alumni Relations team, is a year-long effort that includes a large roster of alumni Reunion Committee members who advise on programming, help with promotions, and encourage alumni to give back by making a gift in honor of their Reunion. This year was the first time that Reunion included a Sunday community brunch and a Broadway show, along with chances to connect and hear from the Dean and several of Stern's popular faculty. 
The weekend started off on Friday night with class cocktail receptions for alumni from a milestone year (Classes of 2022, 2018, 2013, 1998, and 1973) on campus at NYU Stern. 
Saturday kicks off with speed networking, then faculty talks, a fireside chat with the Dean, and career coaching
Saturday started with a breakfast and speed networking session led by Eliza Shanley, senior director of the Career Center for Working Professionals, which offers career support for alumni at all stages of their career. The networking session was a great chance for alumni to quickly meet each other. Afterward, alumni joined the faculty presentations, which began with a keynote by award-winning professor of social psychology and author, Dolly Chugh for a discussion about her new book, A More Just Future, an emotional guide to developing tools for resilience and grit in facing the U.S.A.'s complicated history. 
Chugh's talk was followed by a series of TEDx-style mini talks on a variety of compelling topics: Ashish Bhatia on "Awakening Your Entrepreneurial Spirit"; Sam Chandan on "Reimagining Cities and Real Estate for a Post-Pandemic World"; Viral Acharya on "A Bank Should Be Something One Can Bank Upon"; Tensie Whelan on "How Sustainability is Driving Innovation and Financial Returns"; and Suzy Welch on "Wait, What Should I Be When I Grow Up…Again?" Alumni Council member Chavon Sutton (MBA '12) introduced the faculty presentation. Sutton is also an adjunct professor at Stern and the Stern Alumni Council's vice chair of the Industry Affinity Alumni Group, through which she spearheaded Stern's Corporate Ambassador Program.
Following the faculty talks, alumni enjoyed a seated lunch and fireside chat with Dean Raghu Sundaram who was interviewed by Diana Ruano (MBA '15), vice chair of Reunion Programs on the NYU Stern Alumni Council. Raghu shared updates about the School and addressed audience questions. 
An evening at MoMA, a community brunch, and a Broadway show
Alumni had a chance to sip cocktails in The Museum of Modern Art's sculpture garden, take in the art of Georgia O'Keeffe with special access to the exhibit, and enjoy buffets of tasty food during a special evening at one of New York City's iconic cultural institutions. The weekend came to a close with a community brunch on Sunday hosted by the Stern Women in Business (SWIB), Black and Latino (BALA), LGBTQ+, and Military Veterans Alumni Groups for classmates from all Reunion years and identity affinities. The weekend ended with a Broadway show, Life of Pi, produced by Stern alum and Tony award-winning Broadway producer, Hunter Arnold (MBA '13).
Save the date for Reunion 2024
Reunion 2024 will be held on Friday, May 3–Saturday, May 4, 2024 for the Class of 2023 and class years ending in '4 and '9 for all degree programs. Save the date and be sure to sign up for emails about Reunion under 'Alumni Events' and follow @NYUSternAlumni on Instagram.
See more photos from Reunion 2023:
Class Cocktail Receptions (2022, 2018)
See photos for the undergraduate classes of 2022 and 2018, as well as the graduate classes of 2022 and 2018.
VIEW THE ALBUM
Class Cocktails (2013, 1998, 1973)
See photos for the undergraduate and graduate classes of 2013, as well as the classes of 1998 and 1973.
VIEW THE ALBUM
Saturday Day Programming
See photos from the Saturday Day Programming featuring Stern faculty Dolly Chugh, Ashish Bhatia, Sam Chandan, Viral Acharya, Tensie Whelan, Suzy Welch, and Dean Raghu Sundaram.
VIEW THE ALBUM
Celebration at MoMA
See photos from the Reunion 2023 Celebration at MoMA.
VIEW THE ALBUM
Sunday Community Brunch
See photos from the Community Brunch hosted by the Identity Affinity Groups.
VIEW THE ALBUM