Lifelong Learning Grows by Leaps & Bounds
—
More and more alumni audit graduate-level classes or enroll in complimentary executive education courses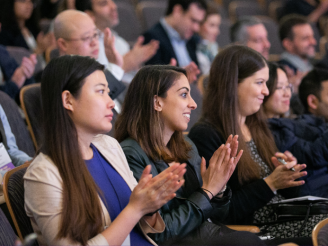 Few lifelong learning programs for executives can boast the numbers that NYU Stern's can. In 2019, when the opportunity to audit classes was first offered to Stern alumni, two dozen graduates signed up. By spring semester 2023, the Alumni Audit Program attracted 15 times that number—fully 2,230 total seats have been allocated to alumni auditors since 2019.The spring 2023 semester registered 360 graduates for 17 courses. The Program offers MBA-level courses only, but any alum of a degree-granting Stern program can partake.

What's the draw? For one thing, the Alumni Audit Program is complimentary—alums in good standing can audit one elective graduate-level course per semester tuition-free. Plus, alumni can take two tuition-free executive education courses per academic year. Additional courses are offered at a 50 percent discount. For another, it couldn't be more convenient—since the spring of 2020, the program has been offered 100 percent virtually over a live-streaming platform. Although some classes cap the number of auditors, almost all alumni requests to audit are fulfilled. 

The Alumni Audit Program is one of three lifelong learning experiences available to alumni. Intensive, in-person or live-online executive education courses—such as Sustainable Finance and ESG Investing, taught last fall by Professor Tensie Whelan and Cary Krosinsky—run from a couple of days to a few weeks. The School also offers asynchronous, online certificate programs. 

"We're thrilled but not surprised that our global community of alumni see the value of Stern's lifelong learning programs and are avid participants," said Raghu Sundaram, Dean, NYU Stern. "Lifelong learning programs are just one of the ways we look for opportunities to serve our graduates as they progress through their careers, whether they're in transition or pivoting or simply wishing to expand or deepen their skill sets and knowledge."

A recent MBA graduate called the class he audited, Professor Sam Chandan's Real Estate Primary Markets, "amazing. As a graduate who is imminently set to purchase a commercial building, [it] just gave me so much insight." 

At the other end of their careers, a retired alumni couple, Bob Newman (MBA '71) and his wife Jan Newman (BS '72) first tried the audit program during the COVID-19 pandemic and have been repeat auditors. "Our connection with NYU Stern has grown significantly with the introduction of the Alumni Audit Program," Bob Newman said. "It's been a fantastic opportunity to revisit the life of a student and learn about new topics." Jan Newman added, "What I've learned has been extremely helpful in my volunteer activities." 

Historically, the most popular courses have included Real Estate Development and Entrepreneurship, taught by Professor Harry Chernoff; Advanced Strategy: Tools, with Professor Sonia Marciano; Valuation, with Professor Aswath Damodaran; and Digital Currency, Blockchains, and the Future of the Financial Services Industry, with Professor David Yermack.
Alumni auditors essentially observe classes remotely. They are not eligible to take exams, receive grades, or participate in group projects, and courses will not appear on their official academic transcript.