Sustainability Evangelist
—
Chana Rosenthal taps her insider experience to guide the fashion industry's evolution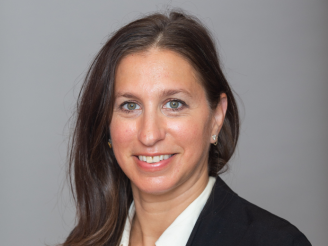 One day earlier in her career, fashion executive Chana Rosenthal (MBA '22) and colleagues spent the afternoon at a supplier's denim factory in China reviewing products. That evening, washing up for dinner, she noticed blue fibers in her nostrils. The experience turned out to be seminal. In 2019, after 17 years working for such brands as Ralph Lauren, Michael Kors, and American Eagle Outfitters, among others, she struck out on her own to advise apparel companies on producing their products sustainably and incorporating ESG values—such as supplier relationships—throughout their operations.

Design is in Rosenthal's DNA. "I grew up with a grandfather that owned a drapery business with a workshop in the back of his house and watched my mother help with the sewing," she explained. "I would work with store-bought patterns, and I loved the process of building the clothes. To me, it combined creativity with the puzzle-like challenge of fitting it all together to form both a functional and appealing garment."

That fascination led Rosenthal through a number of design leadership roles in the apparel industry. Not long after she went out on her own, as her interest in sustainability evolved, she decided to pursue an MBA program. "I chose the Executive MBA Program at Stern specifically because of the opportunity to collaborate and learn from other experienced professionals from diverse industries and backgrounds."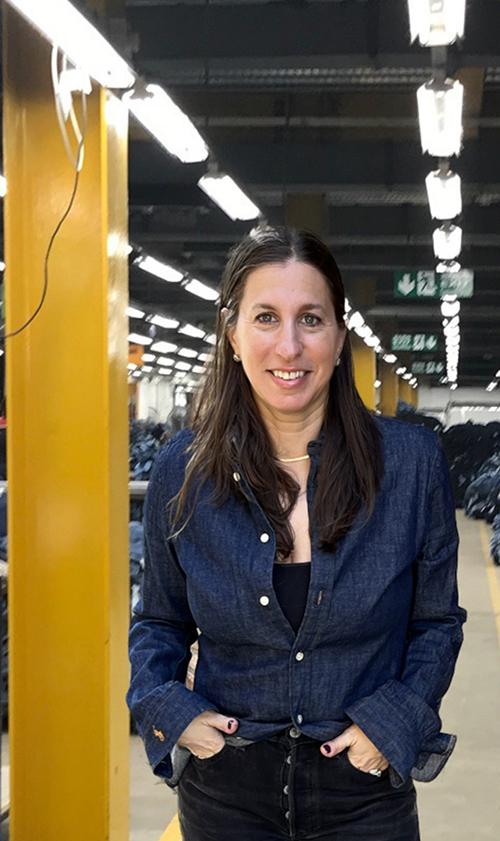 Photo: Chana Rosenthal (MBA '22)
Making the pivot toward sustainability in the apparel industry
Soon after starting the MBA program, she obtained a fellowship at NYU Stern's Center for Sustainable Business (CSB). "I had been interested in an opportunity that allowed me to pivot into sustainable business utilizing my fashion industry experience, which is not an easy find. It was through the Social Impact and Sustainability Association newsletter that I saw the fellowship opportunity with the CSB for their Return on Sustainability Investment (ROSI) apparel work and thought, this is my chance!"

The ROSI™ methodology quantifies the return for companies implementing sustainability strategies through tangible and intangible benefits. Although the methodology applies to all industries, there are industry-specific strategies and practices. Rosenthal explained, "I was given the incredible opportunity to create the first industry framework based on ROSI™, the Apparel Industry Sustainable Strategies Framework. I mapped out various sustainability practices along the value chain and also spent a considerable amount of time determining the benefits and proposed monetization methods for each of the practices. I'm so grateful for the opportunity!" 

After earning her Stern degree, Rosenthal founded reDesign Consulting, which focuses on sustainability in the apparel industry. She cited Stern Professor Bruce Buchanan's course, Corporations and Society, as an inspiration. 
Rosenthal has remained connected with the CSB as a consultant, advising on apparel-related work and aiding in business development. She also consults with the NYU Stern Center for Business and Human Rights (CBHR), providing industry expertise to the Center's supply-chain program manager. "The work with the CSB identifies specific investments needed by companies to shift the narrative, while the work with CBHR has focused on outcome-based decisions that are directly connected to suppliers and their workforce."

The challenges facing the apparel industry in its efforts to embrace sustainability are many and steep, Rosenthal acknowledged, but she is optimistic that some progress has been made—for instance, in material innovation and technology, recycling and resale, and some movement in the regulatory environment. She argued that still much more needs to be done, especially within the supply chain and its workforce.

"I'm extremely proud to have shifted into the sustainable business space, as both social and environmental responsibility are vital to the resiliency of the fashion industry," Rosenthal said. "The Stern Executive MBA Program not only gave me business foundations and the confidence to evolve into the sustainable business space, but also the connections to an incredible community of scholars, experts at the top of their field, and classmates who encouraged me."