Championing Diversity and Inclusion: Luzerne McAllister (MBA '14) Pushes for Positive Change
—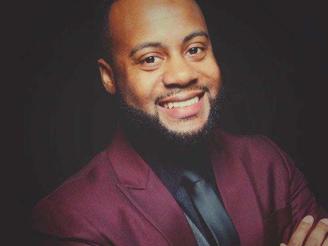 No matter the environment, diversity and inclusion have always been a part of Luzerne McAllister's (MBA '14) life and work. Currently, he reports to the chief diversity officer at PepsiCo, managing parts of the company's global diversity strategy, including its LGBTQ+, Latinx, and Black community strategies, global Employee Resource Group strategy, and PepsiCo's Racial Equality Journey, which includes an over $400 million investment to support the Black community. However, his work in this space goes back many years.
In high school, McAllister founded an organization focused on the development of minority males at the school. As an undergraduate at Wharton, he co-founded the Queer People of Color group and founded what is now The Wharton Alliance, an undergraduate LGBTQ pre-professional organization, for which he received the Dean's award. He served on the board of AHBBS and as the vice president of alumni affairs for OutClass at Stern, where he advocated for a self-identification option on prospective MBA students' application that would allow students to be counted and receive support. McAllister is also chair of the Stern LGBTQ Alumni Committee and a new member of the Stern Alumni Council, where he is focused on expanding the optional self-identification program, growing engagement with alumni, and supporting Stern's diversity and inclusion goals, especially regarding racial equity and understanding intersectionality.
McAllister is also the founder of Rolodex Global, an organization that elevates LGBTQ+ professionals of African descent. What began as a Facebook group in 2011 has since grown into a multifaceted organization focused on networking and fellowship, professional development, arts and culture, and community service. "In 2019 I did my first Rolodex Global conference in New York City, where we had eight C-suite level Black gay men executives talk about their experiences and industries," McAllister says. "A lot of people were excited about being at a conference for Black gay men to talk about their professional growth, but were nicely surprised to get lots of insights about different areas of business as well."
While the pandemic prevented a subsequent conference in 2020, McAllister pivoted to the virtual world with a series of events. Currently, he is focused on building out the organization's service work to support those who have been heavily impacted by Covid-19, partnering with organizations that serve LGBTQ+ youth of color but do not have many LGBTQ+ people of color volunteers as role models. Beyond his role at PepsiCo and leadership of Rolodex Global, McAllister has also launched IELI Group, LLC, through which he provides keynote and executive coaching services.
While diversity, equity, and inclusion are at the core of McAllister's career, he encourages fellow Stern alumni to lean into these efforts at their own companies. "It can be as simple as making sure that their business sector or unit is hiring diverse suppliers and mentoring and growing those businesses, keeping an inclusive environment for all types of people, and watching out for biases in themselves and in those they manage," he says. "In that sense, diversity and inclusion is everyone's job, even if you're not working in it directly."