Alumni Rally to Help Stern Meet the Moment: How the NYU Stern community came together in the face of Covid-19
—
By Marilyn Harris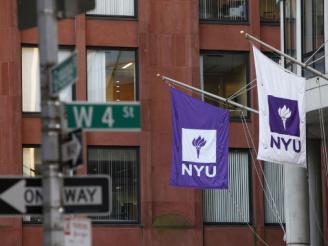 Ask anyone what differentiates NYU Stern from other top business schools, and the response is immediate: the sense of community and the agile spirit at the School—among students, faculty, and administration, and after graduation, among a global alumni population numbering more than 110,000. When there's a challenge, the School rises to it as one.
Stern grads have always been a resource of support for students, whether serving on career panels, helping with case preparation, hosting visiting trekkers, or activating their networks. During this past, difficult year, Stern alumni stepped up, offering support through a multitude of ways. "Ever ready, willing, and able to help, our alumni have played a critical role in the School's response," said Dean Raghu Sundaram. "Every member of the Stern community has worked hard to make 2020 a valuable experience for all of our students, and much of our progress in that effort was due to our amazing alumni network."
While the pandemic and its implications were unprecedented, Stern has faced moments of extraordinary uncertainty before—the 2008 financial crisis and the aftermath of 9/11—and did what it is known for, embraced the change, came together as a community and sprung into action.
Finding A Path Forward
The Stern administration has always been quick to reassess and find a path forward. The aftermath of the financial crisis is especially well remembered by Beth Briggs, associate dean for career services, who was hired in April 2008 specifically to pitch in with finding internships and jobs for Stern students. Then associate director of New York Initiatives, Briggs said she was struck by the leadership, strength, and resolve of the Stern student body: "What I have seen through the years is this School's tradition of coming together as a community to respond to challenges."
Chima Ogbuokiri (MBA '10), vice president, growth marketing & strategy, AMC Networks, remembers all too clearly what it was like to graduate in the midst of a financial crisis. "It was tense," he said. "Heightened and crazy." Not only was Stern's career office helpful, both his summer internship and first full-time role were driven by alumni contacts. "It was also helpful to be reminded that the investment of an MBA is for a long-term return and understand that while the first job may take a few more weeks to land, we would be better positioned for the next downturn," he said. "There is a long list of situations where the alumni connection has at least gotten me to the door."
Here are some of the ways that Stern learned once again, in 2020, how strong and adaptable an organization can be when faced with a sudden disruption—in short, to practice what it teaches.
While Stern typically lends strong support to students, the School went into overdrive this spring in response to the coronavirus pandemic, rapidly putting new initiatives in place for both undergraduates and MBAs, with strong support from the alumni community.
MBA Students Put Business Skills to Work Through SternWorks
One major new initiative, SternWorks, was conceived and launched in record time. When Full-Time MBA students faced the disruption of planned internships, the alumni network stepped in, offering projects as internships through the Summer Fellows part of SternWorks. In the first months, by focusing efforts on the types of small businesses and nonprofits that were most acutely feeling the economic pain of the current crisis, SternWorks provided students an opportunity to put their business skills to work for those who needed support more than ever. "We leaned into helping businesses in need in the beginning," said Briggs, "but then took a broader approach and created experiences where students could expand their skills."
When the pandemic postponed the summer internship planned by Yilin Hai (MBA '21), she signed on to SternWorks: Serve NYC, a volunteer effort, and worked in the fund access team for the City's Department of Small Business Services, helping restaurant and small business owners navigate the red tape of available loans. "The pandemic will be a generation-defining event, and I'm proud that I have contributed my share to fight it and bring businesses back," Yilin blogged for the website ClearAdmit.com. "We struggle together even if we are distanced, and that allows us to overcome the challenge."
The MBA1 class was eligible to apply for summer internship grants as SternWorks: Summer Fellows, benefiting from financial support from the Stern Executive Board and alumni contributions. Within about a month of conception, the program was open for applications and ultimately funded 64 MBA students in a variety of small businesses—including startup venture firms, nonprofits, B-corps, government agencies, and the like—that met specified criteria.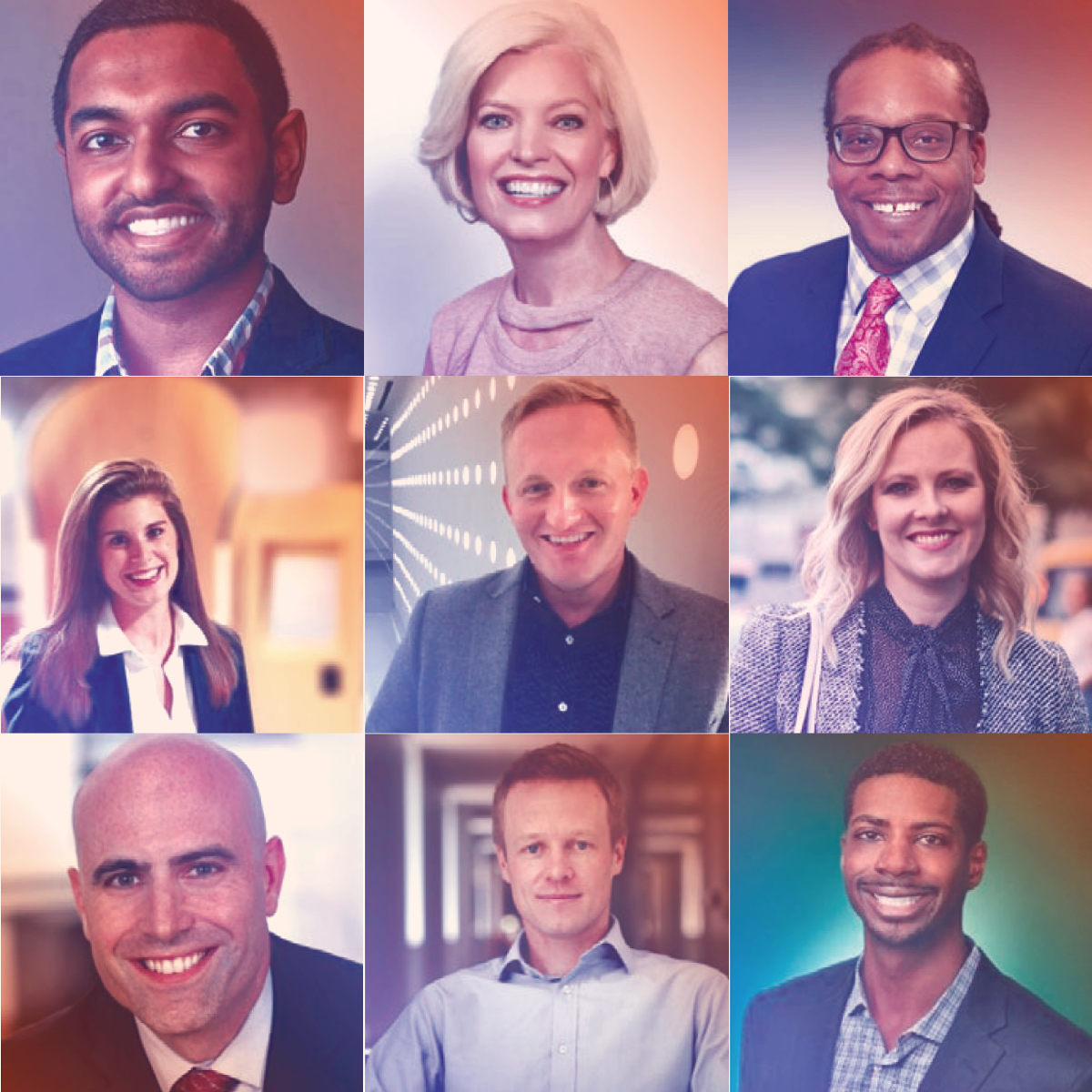 Alumni volunteers: (Top from left) Chase Mathew (BS '11), Susan L. Jurevics (MBA '96), Chima Ogbuokiri (MBA '10);
(Middle from left) Katelyn McClellan (MBA '15),  John Vermeer (MBA '12), Belinda Di Giambattista (MBA '05);
(Bottom from left) Russell Isaacson (MBA '07), Nick Humphries (MBA '12), Tony Watkins (MBA '11)
 
Former Stern Venture Fellow Katelyn McClellan (MBA '15), chief operating officer of SnappyScreen, welcomed David Granik (MBA '21) to an internship with the startup, which develops a novel full-body sunscreen application booth available at luxury four- and five-star resorts. McClellan said she "jumped at the chance" to give back. "Stern provided so many wonderful opportunities for us at SnappyScreen when I was an MBA. I was excited to help and also welcome David, who brought great experience and a unique perspective to our team."
"Being able to work at SnappyScreen and learn the ins and outs of starting a business and adapting to the pandemic was invaluable, and I am sure it will be a key element of my MBA education," said Granik.
Alumni at other firms participated by providing opportunities, including Allbirds, Acumen, Gratitude Railroad, Westfourth Communications, and Targo, among many others. A total of 50 companies took part in the program that led to over 100 projects, including the volunteer opportunities.
"It was amazing how fast all the projects came together that would give the students a chance not only to give back by applying their business skills, but also to immerse them in real-world, real-time challenges that would broaden their experience," said Bryan Ramos, executive director of student engagement. "I am deeply grateful to all who helped bring this program to fruition, and to all our alumni who were so generous with their time."
Ketriel Mendy (MBA '21) found a replacement summer internship at Allbirds through SternWorks. "The 11 weeks that I spent with Allbirds were invaluable in terms of understanding the combination of design and pragmatism that have created some of the most compelling products of the 21st century," Mendy said. "Learning how Allbirds has shared their story and their innovation process broadened my perspective."
Alumni Volunteer as Coaches and Mentors for Undergraduate Students 
At the undergraduate level, June saw the launch of the Coronavirus Response Fellowship for students whose employment was disrupted by the pandemic. A total of 212 Fellows were accepted into the eight-week program, which asked students to address a coronavirus-related business challenge through one of three team-based tracks: entrepreneurship, independent study, or consulting to a small business or nonprofit organization. Alumni pitched in with generous financial contributions, which helped provide an award to each student. More than 80 alumni volunteers served as coaches for the student teams and as one-on-one mentors.
Chase Mathew (BS '11), product marketing manager at Oracle Data Cloud, participated both as an alumni team coach and a mentor. He was excited to learn about an opportunity to give back to the Stern community. As a mentor and a coach, he was impressed by his mentee, Brian Seam (BS '20), and by the team's passion, flexibility, and professionalism during such uncertain times. "I enjoy working with the student sand it's always rewarding. Pitching in at this time was especially so. I led a workshop on networking, and the appreciation from the students was incredibly gratifying."
James Kingham, executive director, professional development & career education—a role recently created in the Undergraduate College—said he was blown away by the number of alumni who volunteered to be part of the program. "We are extremely fortunate that the alumni community stepped forward during this challenging time so we could offer our students a valuable learning experience and professional development opportunity."
Jenny Jiang (BS '20) wasted no time applying for the Fellowship when the opportunity became available. "The Stern Coronavirus Response Fellowship represents all the great things about Stern: a commitment to social impact, a focus on professional development, and a dedicated alumni network. As a recent graduate, I was able to take this on as my first professional leadership experience and learn alongside my peers how to navigate a remote work environment," said Jiang.
The Corporate Relations team organized a series of virtual network rooms—aka Zoom rooms—where alumni hosted info sessions to give MBA students an opportunity to learn more about a company or industry. Students had access to just over 30 of these online networking sessions, where alumni would offer insights and updates across all key industries on a range of topics, from project management and business communication to the intersection of race and public health. Participants included representatives from Cole Haan, EmblemHealth, JP Morgan, Walmart, HBO, EY, Scotiabank, Google, and IBM, among many others.
Thousands of Alumni Join Stern Network
At the same time, Stern aggressively accelerated the introduction of expanded resources. The School moved the planned late-summer launch of Stern Network up to the spring, providing a more efficient way for alumni to serve as an online resource for newly graduating students.
With improvements that facilitate connections among students, alumni, and faculty, Stern Network was launched in co-ordination with the Digital Connections committee, which is part of the Alumni Council. The committee vice chair, Tony Watkins (MBA '11), head of retail practice at Google; Nick Humphries (MBA '12), strategy & operations lead, Google News Initiative at Google; and Russell Isaacson (MBA '07), US head of fashion retail, Klarna, provided feedback to help ensure a good experience for alumni users. Alumni can signal on the site that they wish to be contacted to provide mentorship support on a range of topics and also to share insight into their job function, career path, and company. Because Stern Network is part of NYU's Violet Network, alumni and Stern students can also tap into the broader NYU community.
Alumni Serve as Judges for Small Business School Challenge
In late spring, several alumni served as judges and mentors for Stern's entrants into the national Small Business School Challenge (another component of SternWorks), where students from peer schools compete in a 48-hour virtual hackathon to help out small businesses. The teams were tasked with creating innovative short- and long-term strategies for their business owner clients, covering everything from business model adjustments to operations and marketing. Four companies run by alumni participated, including MAS Event+Design, started by Sneha Bhatia (BS '99); Body Space Fitness, founded by Kelvin Gary (MBA '07); Billy's Bakery, courtesy of co-founder Wayne Dovan (MBA '99); and Elder Care Homecare, led by President and CEO David Gilberg (MBA '15).
Sixteen Stern teams presented their proposals to a panel of six judges, including Stern Professor Cynthia Franklin, director, Berkley Center for Entrepreneurship, and several alumni: Belinda Di Giambattista (MBA '05), founder, Choose Your Metric & Peer to Peer; William Hodash (MBA '90), managing director, Enterprise Data Management; Susan L. Jurevics (MBA '96), EVP, Head of International, Audible; John Vermeer (MBA '12), senior vice president, iHeartMedia; and Gregory Ruben, partner, Elysium Management.
The top Stern team placed second nationally with their plan for a home décor and accessories shop in the New York City borough of Queens. "This was a great experience, as working with Stern students always is," said Vermeer. "Doing what we could as a School to help business owners who were floundering during the shutdown made it especially rewarding."
---
Live Events in Cyberspace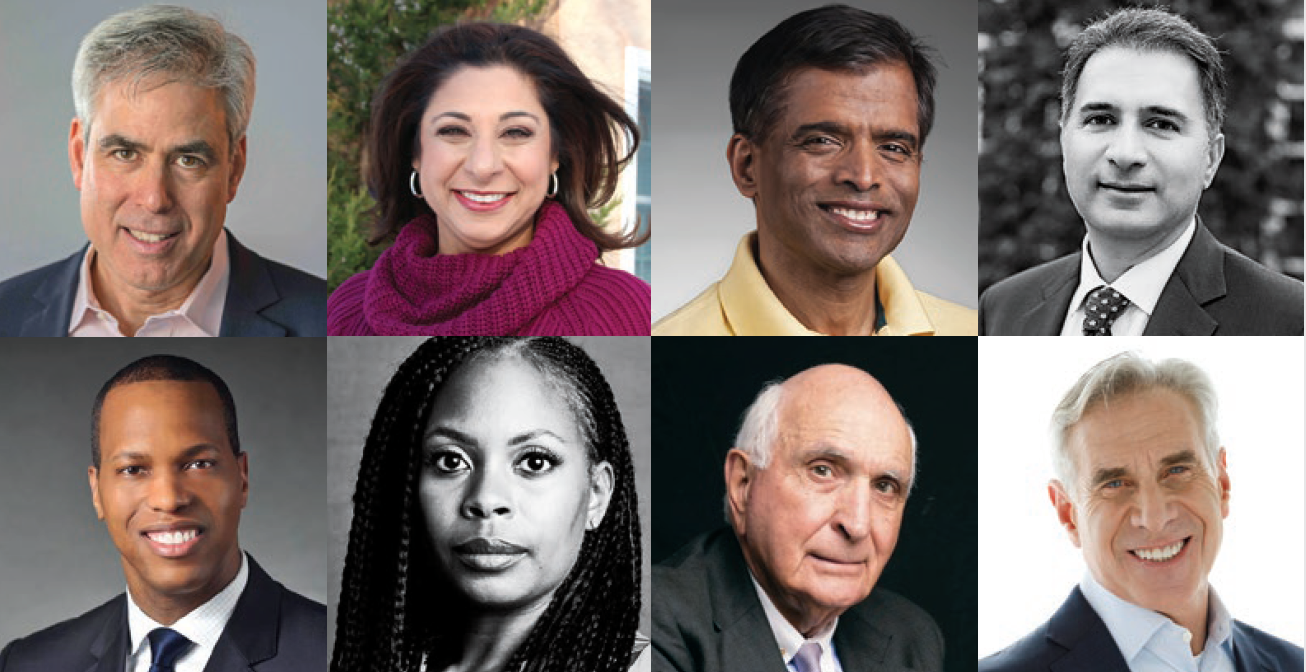 Top from left: Professors Jonathan Haidt, Dolly Chugh, Aswath Damodaran; Andy Khubani (BS '89); Bottom from left: Mandell Crawley, Janelle Benjamin (BS '01), Kenneth G. Langone (MBA '60), George Barrett (MBA '88)
The shift to virtual events across the School increased access for students and alumni around the world. Many events simply moved online—more than 160 in just the spring and summer, with more slated for the fall—and many events were recorded and are posted on the School's website.
Faculty initiated the "Faculty Insights: Covid-19 and NYC" video seminar series, which totaled 19 events that ran from the spring through summer. The popular "In Conversation with the Dean" series hosted professors and business leaders such as Kenneth G. Langone (MBA '60) and Mandell Crawley, head of private wealth management at Morgan Stanley. This fall, the series hosted George Barrett (MBA '88), former chairman and CEO of Cardinal Health, and entrepreneur and investor Janelle Benjamin (BS '01). Nearly all virtual events are recorded and available in the Video Library.
Academic centers also moved swiftly to the virtual world. For example, the Fubon Center's Stern Innovation conference, "Transformative Technological Change," examined innovation's impact on diverse industries, from food agriculture to medicine and education.
"The pandemic brought about enormous challenges, but these challenges also presented opportunities for us to innovate, to re-think the way we approached our work," said Dean Raghu Sundaram. "By going virtual, we have been able to expand our programming to alumni on a global level. It's exciting to see alumni, who, in some cases, previously never had the chance, participate in these events."
Regional alumni events went virtual as well. Alumni in France hosted a fireside chat featuring Spencer Lake (MBA '87), founding partner of Element Ventures, and Professor Thomas Philippon; Ricardo Dadoo (MBA '84) and Pedro David Martinez (MBA '06) officially launched a Monterrey chapter as part of the NYU Alumni Club in Mexico; and back in the USA, the San Francisco Bay Area alumni group has been holding monthly Zoom sessions on various topics plus virtual happy hours—the ultimate BYOB!
---
Graduation Celebrations, Virtually, Recognize Students Far and Wide
With a government-mandated citywide shut down, graduation celebrations were forced to go virtual this year. Stern quickly shifted gears and figured out how to mark the moment by giving graduates a chance to celebrate with their friends and family all around the world.
 
Arianna Huffington, founder of The Huffington Post and founder and CEO of Thrive Global, offered the keynote for the Graduate Celebration. 
Jason Finger (JD/MBA '99), chairman of The Finger Group and Upper 90 Partners and co-founder of Seamless, gave the keynote during the Undergraduate Celebration.

 

Matthew Cook (MBA '03), chief strategy officer of Indiana University Health and president at Riley Hospital for Children, delivered the address for the Stern Executive Programs Celebration.