Charting Health Care's Path Forward
—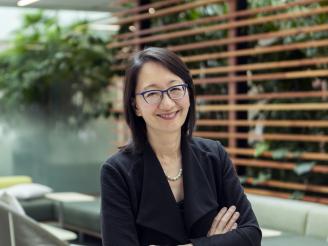 Vivian Lee (MBA '06) shares her perspective on addressing the system's weaknesses.
After years in the health care industry, Dr. Vivian Lee (MBA '06), president of health platforms at Verily (Alphabet/Google's health care company), has some ideas on how to fix some of its core issues. In her recent book, The Long Fix: Solving America's Health Care Crisis with Strategies that Work for Everyone, she looks at places where health care is working well and combines those stories into a plan for addressing the system's problems. Seeing the pandemic unfold has only made areas of weakness clearer.
"The Covid-19 pandemic is like a giant stress test for our health care system, and in large part, we're not performing all that well," Lee says. "There's an increasing recognition that investments in public health will be critical to prevent history from repeating itself."
A physician and elected member of the prestigious National Academy of Medicine, Lee's career in health care has included serving as vice chair for research in the department of radiology at NYU Langone while completing her Executive MBA at Stern, and then as Langone's chief scientific officer and vice dean for science. She was then recruited to be the CEO and Dean at the University of Utah Health, a $3.6 billion integrated health system. While at the University of Utah, she gained firsthand experience instituting organizational changes that both improved patient satisfaction and care quality and reduced costs.
"The algorithm was taken straight out of a business school leading change textbook," Lee says. "The most important lessons were that we effectively engaged our physicians in the process, using timely and accurate data, so that they felt like they had some autonomy to decide how we were going to change, and  see the benefits for their patients and for themselves."
Overall, Lee sees the health care system's underlying business model, which rests on fees for service, or paying for actions rather than health outcomes, as the core problem. In The Long Fix, she discusses how shifting to pay-for-health models can lead to better outcomes and lower costs. Despite the weaknesses in the health care system highlighted by the intense pressures of the pandemic, she has seen some solutions emerging from the challenges, such as increasing adoption of telehealth and digital health approaches that can support better public health and prevention. Leveraging data and technology to scale solutions in health care is what drew her to become an executive in health technology.
"Health care is everyone's problem to fix, and there are ways forward for a brighter future," Lee says.
 
---
Read the original interview with Vivian.