An Entrepreneurial Ecosystem: Stern Venture Fellows Takes Off as Launchpad for Stern Startup Founders
—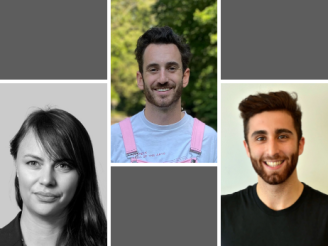 The Stern Venture Fellows (SVF) program has been a boon to promising startups. Through a 10-week summer program, Stern entrepreneurs develop their ideas and gain access to advisory and mentorship services and an invaluable network of business leaders.
Established by a $1 million gift from David Ko (BS '93) and his wife, Jennifer Ko, the SVF program has supported 25 entrepreneurs in its first three cohorts. Here's what a few fellows had to say about how Stern Venture Fellows helped them.
---
Mary Taylor (MBA '17)
Mary Taylor Wines
2018 SVF Cohort
Taylor believes that good wine should be an everyday luxury, so she works with small vineyards to produce high-quality wines at affordable prices. Her import company brings in European wines that are otherwise too small or unable to compete with bigger brands. As a self-funded company that has grown through revenue generation, Taylor said SVF gave her the opportunity to vet the idea of a fundraising round and taught her how to talk about the business as enthusiastical-ly as about the wine itself. "By the end, I could pitch in my sleep," she says.
Her Advice:
 Don't just make a daily task list, but an annual or semi-annual goal list and hang it somewhere prominent to remind yourself of them every day.
---
Kyle Bergman (MBA '19)
The Great Fantastic
2019 SVF Cohort
The Great Fantastic creates the world's comfiest apparel using sustainable resources and ethical manufacturing processes. Bergman's signature Swoverall product (a sweatpant-overall combination) reached just under $1 million in sales in three years. Building on his SVF connections, Bergman recently launched Sweat From Home, which offers virtual workout classes and is now in a fundraising seed round. Through SVF, Bergman gained a strong community of fellow entrepreneurs and invaluable networking opportunities that continue to pay dividends. For example, he pitched Swoveralls to Zaw Thet, who runs a venture capital firm, on a trip to San Francisco with SVF. He wasn't interested, but they stayed in touch. When Bergman pitched Sweat from Home to Zaw this year, he was sold, and now they are partnering on the new venture.
His Advice:
 See failure not as an indication of inadequacy, but as a gap in your skillset or understanding that can be improved.
---
Joshua Sakhai
Ephemeral Tattoos
2017 SVF Cohort
Sakhai immersed himself in the burgeoning entrepreneurial scene while an undergraduate at Stern and emerged with a company that devel-\ops semi-permanent tattoos made to fade within a year. After extensive product development, testing, working with dermatologists and tattoo artists, the business will open its first shop next year. Sakhai said that being in an environment where he could poke his head out of the weeds, get feedback and engage with others who had been there before in the entrepreneurial process made a big difference. He leaned heavily on the NYU ecosystem and believes that if it weren't for that support early on, Ephemeral might not exist today.
His Advice:
Being an entrepreneur has been incredibly challenging, but I feel privileged to be going through it. Do something that makes the journey worth it. Find a problem you're genuinely moved to solve.