Kathleen DeRose Appointed Director of the Fubon Center for Technology, Business and Innovation
—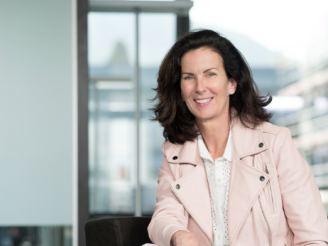 Since 2018, thanks to a generous donation from alumnus Richard Ming-Hsing Tsai (MBA '81), the chairman and CEO of Fubon Financial Holding Co., Ltd., scholars and practitioners in the fields of fintech, data analytics, and artificial intelligence collaborate at NYU Stern's Fubon Center for Technology, Business and Innovation. In her new role as Center Director, Professor Kathleen DeRose succeeds inaugural director Professor Natalia Levina, and will continue to work with Professors Melissa Schilling (innovation) and Foster Provost (artificial intelligence and data analytics), who remain in their director roles.
After a distinguished career in industry, DeRose, an NYU Stern alumna (TRIUM '11), returned to the School as an executive-in-residence in 2016, becoming a Clinical Associate Professor of Finance in 2017. DeRose is deeply involved in all things fintech, including fintech curriculum design, joint research with industry, and fintech events. She will continue to lead the fintech initiative at the Fubon Center.
"Our mission at the Fubon Center is to support three exciting, interconnected initiatives as the traditional divisions between formal academic disciplines narrow, creating the opportunity for collaboration between finance and data and computer science," says DeRose. "I'm excited to continue to work with Professors Schilling and Provost and others in our expanding community on the frontier of technology innovation scholarship."
Our first priority is supporting research," says DeRose. "We have more than 15 faculty affiliates conducting research in our areas of focus. So far, we've awarded more than a dozen $5,000 research grants to PhD students. This academic year, we also have our first teaching fellow."
The Covid-19 pandemic has not disrupted the Center's schedule of events, which includes a full menu of fireside chats and well-attended conferences bringing together audiences that normally do not have the chance to mingle, sparking collaboration and fresh ideas. "We have adapted our events to the new reality of pandemic life and are keeping to our normal schedule with two full-scale conferences, on Innovation this past September and Fintech (March 5, 2021) and a series of fall and spring fireside chats." Future virtual conferences will be more "bite-size" and interactive, DeRose added. "We're working hard to engage people and to make it easier for them to participate."
Collaboration with donors, industry supporters, and a growing advisory board—which includes executives from Bain Capital, Morningstar, and FIS Global—continues apace. In addition to supporting research and faculty affiliates, expanding the advisory board is one of the Center's continuing priorities.
"Over the next three to five years, we want the Center to be a champion of Stern's leading research," DeRose said. "A university is a wellspring of proprietary insights that shape policy, guide education, and inform industry practitioners, and the Fubon Center will continue to play a key supporting role in all three."