Leading Through Crisis: A Story of Empathy with Ken Stolman (MBA '07)
—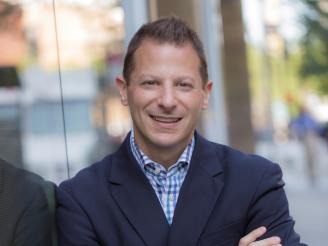 NYU Stern's Leadership Accelerator series, Leading Through Crisis, examines how Stern alumni are approaching leadership during the Covid-19 crisis, and how they exemplify the Accelerator's core values: agility, innovative mindset, continuous learning, action-oriented, inclusivity, and self-awareness. 
In this story, Ken Stolman (MBA '07), senior sales executive at Salesforce, reinforces the importance of empathy and illustrates the deliberate actions we can take to address problems and opportunities.
According to Nate Pettit, associate professor of management & organizations and director of the Leadership Accelerator, "We need leaders who have an evolved sense of their personal values and purpose, coupled with an awareness of how they relate to others and society."
Read Ken's story below.  
---
Last Tuesday, my four-year-old daughter and seven-year-old son made our family lunch in their imaginary kitchen. On Friday, they named my wife and me co-pilots of a flight to Disney World, and off we flew to Orlando to enjoy a YouTube experience of Space Mountain and Disney's Main Street fireworks display. I am incredibly fortunate that, working from home, I get to be part of precious moments with all three of my kids. While not every day is easy, these are moments I won't get back.
As our business lives and our personal lives have become increasingly integrated, it is more important now than ever to be compassionate and allow people time to embrace these experiences. We are reimagining what business looks like and, as Marc Benioff, chief executive officer of Salesforce, emphasizes, "This is not business as usual." I recently spoke with a client that manufactures school-related products, and their most pressing question was not about digitally transforming their business at that exact moment, but about how to shift to remote employee collaboration and create a strong culture—to ensure its employees are taken care of. 
Creating a strong culture means leading with empathy, understanding, and a willingness to be vulnerable. I am inspired by the senior executives at Salesforce who lead by example, opening up about personal challenges in this new work from home reality and allowing our community to share in this unprecedented time together. In speaking to my clients, I do my best to reveal stories about myself and my family so they view me as a whole person, rather than just their sales lead (and a representative of Salesforce). Leading with empathy also means acknowledging that self-care and family come first. With virtual mindfulness, meditation sessions, and 'Leading Through Change' seminars scheduled during the workday, Salesforce demonstrates its commitment to prioritizing employees' mental health. 
I feel overwhelmingly fortunate: I am employed and quite busy. My family is healthy. I am in constant touch with my clients, friends, and family. In turn, I feel the obligation to give back to my community. Several friends and I saw an opportunity to provide critical COVID-19 matchmaking support. There are those who are asking to help, and those who need help. Together,  we've quickly scaled
Helping Hands
, a nonprofit that assists seniors and other members of our local communities who are most at-risk. It pairs them with healthy volunteers (from their local area) who can meet their needs enabling them to stay home and be safe. Through compassion, creativity, and quick moves, there is a lot of good we can do, because we are all better together. 
More in the Leading Through Crisis series:
About the Leadership Accelerator
Through Stern's Leadership Accelerator, students gain the behavioral skills and mindset to embrace and drive change in an ever-evolving business world. Through challenging, high-engagement experiences, students repeatedly put themselves outside their comfort zone—to take risks and fail and to learn from these experiences through skillful reflection.