Taste of Stern 2023
—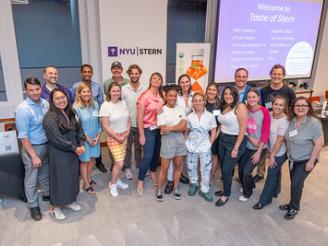 This June, the Stern Food & Wine Alumni Group revived its annual grand finale event: Taste of Stern! For the first time since 2019, Stern food-and-beverage industry alumni gathered to showcase their products and businesses. Tastings included sweet and savory treats, wines, beers, and spirits. 
Check out the alumni who participated:
 
Pictured: Wayne Dovan, Co-owner & Founder
Wayne Dovan (MBA '99), Marc Lino (MBA '99)
Wayne and Marc started Billy's Bakery in New York City in 2003 as a local, neighborhood-oriented bakery. "Neither of us are trained bakers! Given our Chelsea flagship is nearly 20 years old, we believe we have established a well-respected, neighborhood-oriented bakery brand in NYC that will continue into the future." –Wayne Dovan #CelebrateHomemade
Pictured: Mark Kohzin, Founder and Owner
Mark Kohzin (MBA '00)
Before he founded d'Vida Health, Mark worked in real estate for over five years. Then, in 2008, he pivoted to the health and wellness space and founded d'Vida Health Bar at one of the buildings he managed, 11 Madison Avenue. Fast forward to present day, Mark has developed a line of unique and customizable healthy nutritional bars and smoothie mixes, with flavors such as White Chocolate Macadamia bars and Mixed Berry smoothies.
Pictured: Steve Luttmann, Founder & CEO, and Michelle Waters, Sales Director
Steve Luttmann (MBA '93), Michelle Waters (MBA '25)
 
Hercules Mulligan Co, named after the 18th-century Irish-American hero, offers craft cocktails in premixed bottles. After working in the food and beverage industry for over a decade and selling his first spirits brand Leblon Cachaça to Bacardi Ltd, Steve launched Hercules Mulligan Co. in 2019. Michelle Waters, the sales director, is a proud Class of 2025 MBA student. Hercules Mulligan Co offers two distinct cocktails: Rum & Rye and Eyr & Rye.
Pictured: Karolin Cakirdas (center), Founder & Owner
Karolin Cakirdas (BS '02)
Karolin combined her passion for baking, creativity, and entrepreneurship by opening Keremo Cakes with her family in New Jersey. Keremo Cakes is a boutique bakery specializing in custom-designed cakes and sweet treats like cake pops and cupcakes. They even won an episode of Cake Wars on Food Network, earning them the title 'Cake Wars Champion!'
Pictured: Andrea Baptista (left), Founder
Andrea Baptista (BS '11, MBA '18)
Andrea is an alcohol brand manager by day and the Founder of MAOMAO Hot Sauce by night. MAOMAO offers chili crunch with different levels of spiciness.
Pictured: Mary Taylor, Founder & Owner
Mary Taylor (MBA '17)
Throughout her professional life, Mary has been active in the wine industry. After a trip to Burgundy, France, she had a vision to help American consumers navigate the complex landscape of European wines. In 2015, while an MBA student at Stern, Mary created Mary Taylor Wine, which offers a selection of white, red, and sparkling wines from multiple European villages under streamlined packaging.
Pictured: Jonathan Becker (right), President
Jonathan Becker (MBA '11)
With years of experience in the food and beverage industry and expertise in consumer-packaged goods, e-commerce, and retail, Jonathan joined TREO as president in 2021. TREO produces organic low calorie fruit drink powered by birch water, sourced from birch trees in the mountains of Vermont and Upstate New York, that's naturally sweetened and hydrating. The company recently announced that TREO is now available through almost half of Walmart locations across the US. 
Pictured: Carol Ann Coughlin, Founder & Owner
Carol Ann Coughlin (MBA '94)
After spending years in nonprofit, trade show, and commercial banking industries, Carol Ann started searching for a new career when she and her husband Paul realized the perfect opportunity—their own backyard! They obtained a Farm Distillery license in 2013 for their 115-acre farm in Dutchess County, New York which led to Taconic Distillery, producer of the state's number one craft bourbon.
Pictured: Tara Hankinson (right), Co-Founder & Co-CEO
Tara Hankinson (MBA '15)
 
Tara has always been passionate about hospitality and creating experiences, thanks to her parents who worked in the wine and restaurant industries. After working at the Wolffer Estate Vineyard, she was inspired to create a hospitality-forward beverage company. She created TALEA Beer Co., NYC's first female-founded production brewery and taproom. TALEA released its first beer in 2019 and opened its flagship brewery in Williamsburg, Brooklyn, in 2021.
Pictured: Surafel Techane, Founder
TEFF LAB
Surafel Techane (BS '21)
TEFF LAB manufactures delicious plant-based snacks powered by teff, a nutrient-dense ancient grain native to Ethiopia. TEFF LAB was a semi-finalist in the 19th annual NYU Venture Showcase, a springboard for promising NYU startups hosted by the Berkley Center for Entrepreneurship as part of the NYU Entrepreneurs Challenge. 
Pictured: Jenny Goodman (center), Co-Founder & CEO
Jenny Goodman (MBA '16)
Jenny had a successful career in the pharmaceutical industry and had opened a restaurant called Goods in Brooklyn. In 2012, she co-founded Tilit along with her husband Alex, a seasoned chef, with the mission of helping people look better and cook better. Tilit creates stylish and functional kitchen workwear, including aprons, jumpsuits, and workshirts and has evolved into a full blown kitchen fashion brand.
See more photos: