Jerry Cohen (BS '53/MBA '59): A Pioneering Legacy of Giving Back at NYU Stern
—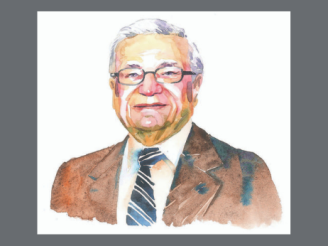 Jerry has had an illustrious career in NYC real estate and his broad interests led him to become a partner in the Yankees, the Nets, and the New Jersey Devils organizations, as well a long-time patron of the arts. A passion for giving others access to the types of opportunities he has had, Jerry has spent six decades in service to NYU Stern. His support for Stern has included:
Served on Stern's Executive Board for 31 years as a trusted adviser to multiple deans and an inspiring role model to students, faculty, and Stern leadership
Created the Cohen Arts and Culture Experience (CACE) in 2004, to give undergrads a chance to attend concerts, Broadway shows, and sporting events  
Established the Jerry and Adrianne Cohen Scholarship for juniors and seniors who are suffering financial hardship as they work toward completing their degree  
Paved the way for NYU Stern to establish the Center for Real Estate Finance Research (CREFR) in 2012, helping to strengthen the relationship between Stern and the real estate industry
Invested in the School's Concourse Project, helping fund and raise funds for much-needed renovations to Tisch Hall
Became involved with Stern leadership early on, having served as student body president while an undergrad at NYU Stern
Jerry has impacted thousands of students' lives over the years through his generosity, volunteerism, and the multi-dimensional way in which he enriched the student experience.