Leading UC Forward: A Conversation with Robert Whitelaw, Vice Dean of the Undergraduate College
—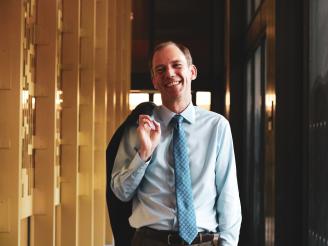 Robert Whitelaw, Vice Dean of the Undergraduate College and Edward C. Johnson 3d professor of entrepreneurial finance, has been with NYU Stern through more than 25 years of growth and change. Now in his second year in the vice dean role, he reflects on his fondest Stern memories and shares his goals for the Undergraduate College, including his hopes for the new Business, Technology and Entrepreneurship (BTE) program.
Q: What originally brought you to NYU Stern?
ROBERT WHITELAW: When I finished the finance PhD program at Stanford Graduate School of Business (1991), I was looking for an academic position. I wanted to find a finance department that would provide me with the best opportunity to build my research career, with great colleagues, in a great location! Fortunately, NYU Stern had all of that, and I was thrilled that they offered me a position. I had worked in NYC from 1984 to 1986 at a large investment bank so I already knew what a great city New York is.

Q: What is your fondest memory during your time at NYU Stern?
RW: I have so many good memories from my more than 25 years at NYU Stern. Amazing interactions with students and colleagues, in and out of the classroom, in seminars, in the hallways. However, one of my most memorable experiences was my chance to speak at the Stern Undergraduate Baccalaureate ceremony in 2008 after I was chosen as Professor of the Year. Being selected was a great honor, but speaking in front of the graduating class, their families and friends, was a truly amazing experience.

Q: What's been your favorite aspect of working with students, either as a professor or in your new role as vice dean?
RW: I have been studying, teaching, and "doing" finance full-time for more than 30 years, since I started my doctoral studies. It may seem crazy, but I truly love it. One of the most rewarding aspects of teaching is passing on some of this passion and excitement to my students. As they begin to understand finance in a deeper way, I see a light go on, and they sometimes begin to see the beauty that inspires me.

Q: What are your priorities as vice dean for the Undergraduate College?
RW: To continue to build on our well-rounded undergraduate curriculum to pursue innovations that ensure we are providing a world-leading business educa-tion fit for the complex, modern world. To continue to build a sense of belonging within our diverse community of students, staff, faculty, and alums that allows everyone to grow and excel. To continue enhancing career paths and opportunities that expand students' ability to explore their interests while meeting the needs of employers across a rapidly evolving work landscape.

Q: What is most exciting to you about the launch of the new undergraduate Business, Technology and Entrepre-neurship (BTE) Program? What new opportunities does it provide for Stern undergraduate students?
RW: This program is the first US undergraduate business program of its kind to seamlessly integrate business, technology, and entrepreneurship. It will instill our students with an entrepreneurial mindset and provide them with the necessary business and technology tools to play transformative roles in today's dynamic and tech-driven business world. There is no question that this is a degree for our time—an undergraduate program that is deeply connected to the New York City tech ecosystem and that is built for the future of business. BTE graduates will be well positioned to take on business and technology roles at both large and small technology companies, consulting firms and banks, or start their own ventures.

Q: What has been the biggest lesson that you personally have learned in your time at NYU Stern?
RW: Not to take myself too seriously and to remain positive. Education and research are serious and sometimes challenging endeavors, but a sense of humor and an optimistic outlook can take you a long way. I've found this lesson to be even more important as we have dealt with the fallout from the coronavirus pandemic. The lives of students, faculty, and staff have been disrupted in so many ways, but the positive and upbeat attitude of the whole UC team has enabled us to get through the tough times with a smile on our faces.
 
---
Excerpted from Humans of Stern: Robert F. Whitelaw, Vice Dean, NYU Stern Undergraduate College, produced by Thomas Khadoo (BS '21).