Stern Network Makes Finding (or Providing) Career Support Easier
—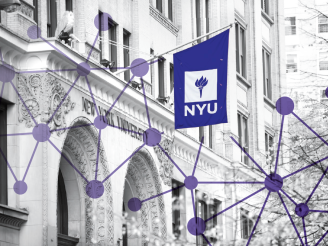 Shortly after New York's and NYU's pandemic-related shutdown last spring, NYU Stern accelerated its planned late-summer launch of a new online networking and mentorship platform. The gesture was greeted enthusiastically: within several weeks of the April introduction, more than 7,000 alumni and students—including graduating seniors from the Undergraduate College and graduate students—had already set up accounts on the hub, called
Stern Network
. By moving up the platform's launch date by several months, Dean Raghu Sundaram said, "We wanted to communicate that even though we are living in unprecedented and indeed challenging times, the Stern community is here for you."
Stern Network, accessible to all Stern students and alumni, is designed to make connecting easier. Members can search for alumni across industries, companies, and programs and contact them directly; volunteer to provide career insights for Stern students; join an alumni group based on region, industry, or interest; find former classmates; and access the wider NYU Violet Network to connect with all NYU students and alumni. The Stern alumni community comprises 110,000 strong, with a presence in more than 130 countries; NYU counts more than half a million alumni worldwide.
Currently, there are alumni industry and identity affinity groups such as Food & Wine; Entertainment, Media, and Technology; Private Equity/Venture Capital; Real Estate; Black and Latino; LGBTQ+; Military Veterans; Stern Women in Business; and Stern Ten, for recent grads. Networking events, like the recent EMT Summit on "Streaming Wars," keynoted by Professor Scott Galloway, are both social and informative. Regional Stern alumni groups use Stern Network to organize and host similar events across the US and around the world.
"Stern alumni are exceptionally generous with their time when it comes to helping students, and many signed on immediately," said Beth Briggs, associate dean of corporate relations and career services for the MBA program.
"In this period, when so much is uncertain, it's more important than ever for students to have, and utilize, Stern Network as a resource," said James Kingham, the Undergraduate College's executive director, professional development and career education. "Whether you are continuing your job search or just looking to stay connected to each other, we encourage you to join Stern Network and begin exploring."