A Success From the Get-Go: The First Graduating Class of the EMBA DC Program Celebrated
—
By Marilyn Harris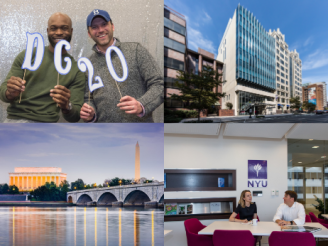 2020 has been a year to remember, especially for the NYU Stern EMBA DC Program, which graduated its inaugural class of 43 executive-level students in a virtual celebration in August 2020.
"What a ride!" said Tosin Aje-Adegbite (MBA '20), mother of three and one of the EMBA DC student commencement speakers, along with alumni speaker Matthew Cook (MBA '03) and several others. "2020 has given us all the ability to demonstrate our strengths, test our limits, flex new muscles, and to do so unabashedly."
"You have joined a wonderful new community, the NYU Stern family," Robert Salomon, Vice Dean, Executive Programs, told the new graduates. "All of us in this community are committed to transforming our shared future. While we might not yet realize it, I think we'll look back with the benefit of hindsight and consider ourselves fortunate to have lived during this time—to have experienced true adversity, and ultimately, to have taken action to overcome it."
The EMBA DC Program was a success before the first class even took place in downtown DC. Enrollment for the inaugural cohort exceeded targets by 25 percent.
In the "new normal" that the newly minted EMBAs now enter, explained EMBA Academic Director Naomi Diamant, she is confident this class will "meet the great challenges of our time with leadership that inspires, that supports, that cares."
Added Salomon, "Ask yourselves, as the future business leaders within our 'civil' society, if not us, who else has the means to address them? Who else has access to the resources, the human capital, and the influence needed to help create a more just and more equitable society—to ensure that 2020 is ultimately remembered for the good it helped catalyze rather than the calamities it produced?"
This first diverse class comprised 33 percent women—a new record for the School's EMBA program—and 37 percent underrepresented minorities. This highly talented group also came in with an average work experience of 13 years, and from a range of industries, including financial services, healthcare/pharma, government/military, and high tech, to name a few.
The program is appealing to both local and national residents. Roughly two thirds of the class of 2020 are based in the DC area, while another third traveled from across the US, including from Montana, Florida, Texas, and elsewhere. The fact that the program is held only once a month in a three-day weekend format at NYU's Washington DC location, in the heart of downtown and just 15 minutes from the train station or airport, made it especially convenient for those traveling from outside the area.
Similar to the EMBA NY program, EMBA DC students are able to select specializations. EMBA DC specializations include: Business Analytics, Finance, Leadership & Change Management, Management, Management of Technology Operations, and Strategy—to deepen and broaden their competencies in the area most relevant to their career goals. The DC20 cohort traveled to Shanghai on a Global Study Tour—a one-week international, in-country residency in a market outside of the US—giving the students direct international business exposure, including corporate visits.
They also joined a robust global network—110,000 Stern alumni and 500,000+ NYU alumni in 183 countries—that opens up significant opportunities for networking in virtually any industry or geography. The DC area alone has the third largest NYU alumni network in the US.