Summer Fellowships Provide Internships for Undergraduate Students
—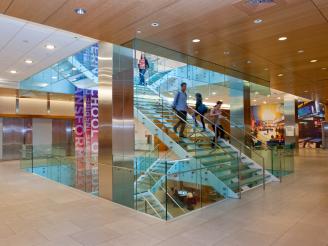 Last summer, NYU Stern's Undergraduate College (UC) developed a program that offered professional development opportunities for students. In alignment with UC Professional and Social Impact Pillars, students could explore their interests and use business to create a positive impact. Through the Coronavirus Response Fellowship, over 200 Stern students in 54 teams participated. Students received stipends thanks to generous support from the Stern Executive Board and alumni.
The program offered a valuable complement to students' classroom experience and enabled them to practice teamwork, leadership, and real-world business skills over the summer," said Mandy Lancour, associate director of professional development and career education, who developed the program.
The undergraduate fellows used their business acumen to respond to issues that have arisen due to the coronavirus pandemic. Fellows worked in teams to conduct an independent study on an issue, consult with a small business or nonprofit, or start the process of creating an entrepreneurial venture. More than 80 alumni volunteers participated either as coaches of student teams or as individual mentors to the graduating seniors and rising seniors who took part in the program.
 
---
Through the Coronavirus Response Fellowship Program, I was able to turn the summer around and dive into the challenges brought about by the pandemic. I worked on an independent study with a team of bright, intelligent, and business-driven women. We researched how corporations reacted to the systemic disparities that Black and brown communities face. I have truly gained some important lessons that I will hold on to for the rest of my career.
— Bayza Assefa (BS '22)
---
The Coronavirus Response Fellowship was an incredibly valuable experience. I was able to learn a lot about consulting, participate in professional development activities, meet and work with peers, and help a local business adapt to the changing economy. I really appreciated this opportunity and found it to be very meaningful to work with a real business and bring things we learned in the classroom to life. My team was great  to work with. I am really appreciative that Stern offered us this program.
—Ben Rapp (BS '22)
---
As an international sophomore student, it was hard for me to find an internship in such trying times. Through this program, I got hands-on entrepreneurial learning experience by researching, conducting surveys, brainstorming solutions, and charting out the details for our venture. I appreciate the Professional Development & Career Education team for planning and executing this project and all the donors for the financial incentive.
—Aanandi Suri (BS '22)