Working Toward Diversity and Inclusion
—
By Gary Fraser (MBA '92), Associate Dean for Diversity and Inclusion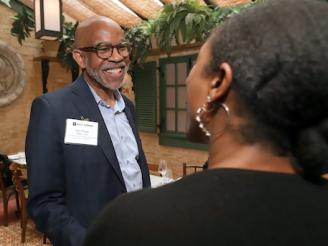 I returned to NYU Stern as the inaugural Associate Dean for Diversity and Inclusion for the newly created Office of Diversity and Inclusion in January 2019. While the School had some successful initiatives in place to add to the already existing work done to create a more diverse and inclusive environment at Stern, like so many other organizations, Stern grappled with what to do about the racial discord in our country.
As the country struggles with how to dismantle its history of racial oppression, it is important for every organization to ask what it is doing within its environment to contribute to this effort. A critical component is to work to eliminate any systemic bias that exists internally and to help educate our community on how to adapt to those who may be different than us.
The first step is to speak to stakeholders. Over the last few months I have en-gaged in conversations with students, alumni, and administrators who identify as Black or African American about their experience with the School. I have also had conversations with the senior leadership team, and have had a group conversation with all deans and directors in the School.
Hearing these important voices is a first step, but the next critical step is taking action. Based on conversations with Dean Sundaram and his Vice Deans team, the entire vice dean senior leadership team agreed to take an assessment to evaluate our own capacity to adapt to others who may be different from us according to various social identities like race, sexual orientation, gender identity, and nationality, to name a few. In addition, every major degree program at Stern has arranged for all of its incoming students to take the same assessment. By the numbers, this includes over 1,500 students that will have one-on-one assessment results delivered with an individual plan for personal growth. Also, over 100 administrators and faculty (including 27 who were trained to deliver the assessment to students in the future) participated in this effort as well. I believe that this is the most aggressive commitment to intercultural development that is being done at any business school. In addition, for the second year, the School embarked on intergroup dialogue about various social identities at orientation. This work, focusing on intercultural development and intergroup dialogue about how we individually identify, is important. The main reason being that for too long, the unspoken expectation was that those who were underrepresented in any environment must adjust to the majority population. We now know that in today's world, we all need to adapt to each other for the best overall outcomes.
Faculty have played a key role in this transformation as well. This includes an overhaul of Professional Responsibility, the capstone course in the MBA program. Among the many updates to this course is a new module on systemic bias. Making the classroom environment inclusive to all is also a critical imperative. A faculty-led committee created a question that will be included in course evaluations; it asks students to share if their instructor created an inclusive environment in the classroom.
Efforts to continue the work to diversify the overall environment at NYU Stern also continues, starting with our student populations. Some of our newer programs like the one-year focused MBA and the NYU Stern DC Executive MBA Program represent some of our most diverse cohorts of students.
This past summer, I participated in a meeting with the NYU Stern Alumni Council, which featured a presentation by Jennifer Meacham (MBA '15), Vice Chair, Identity Affinity Programs, and student leaders from the MBA and EMBA programs. During the meeting, I remembered the continued importance of using our brand narrative of "Change: Dare It, Dream It, Drive It" to approach the challenge of any racial inequities that exist in the recruitment of students and the hiring and promotion of faculty, staff and administrators. Among other important topics, we spoke of the need to ensure that Stern has diverse selection committees, a balanced scorecard for evaluation, and a commitment to a diverse pool of candidates in every process.
Each of us must commit to individually strive to learn to understand our commonalities as well as our differences to ensure the future success of the Stern community, as individuals, and as leaders. We welcome your partnership in this process and encourage you to reach out.
---
Engaging in dialogue, for all constituents, about the need for change from all of us will allow for progress. We welcome your partnership, and if you would like to engage with us in this effort, please reach out to me at gfraser@stern.nyu.edu or Nico Le Blanc, Associate Director for Diversity and Inclusion at nleblanc@stern.nyu.edu.