NYU Stern Alumni Reconnect at Reunion 2017
—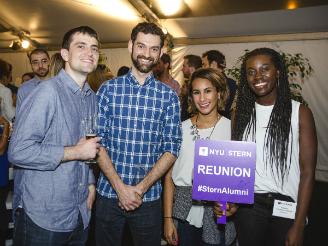 A burgeoning tradition now in its seventh year, NYU Stern Reunion 2017 drew over 1,000 alumni and guests across degree programs and graduation years back to campus. Alumni enjoyed class receptions and daytime sessions, followed by an elegant evening celebration at the iconic Central Park venue, Tavern on the Green. "It was great to spend time with so many Stern alumni over the weekend," said Sarah Marchitto, Executive Director of Alumni Relations. "We're always working to build and nuance the program each year, but it's our alumni who are really grounding Reunion as a Stern tradition."
On Thursday evening, the graduate and undergraduate classes of 2016 kicked off their Reunion weekend at a special one-year Reunion event with the graduating classes of 2017. At nearby Amity Hall and in the Gould Plaza Tent, alumni had a chance to connect with the newest additions to the Stern alumni community, who will be joining the accomplished global network this May.
Friday marked the beginning of Reunion 2017 for the classes of 2012, 2007, 2002, and 1992, as alumni reconnected at individual class cocktail receptions near Washington Square campus. Notably, the MBA Class of 2012 band, MBA Jam, performed for a full Webster Hall audience following the class of 2012 reception.
Leon Choate, Esq. BS '62, kicked off the Saturday daytime program with advice for alumni on how best to navigate the shifting tax landscape, sharing his expertise on estate and tax planning over breakfast. The second morning session, "Female Executive Leadership in 2017 and Beyond," was led by Professor Susan Stehlik and a panel of accomplished alumnae, Liz Elting, MBA '92, Adrienne Garland, MBA '99, Suzanna Keith, MBA '92, Karen Roth, MBA '92, and Chrys Tsilibes, MBA '92, who shared their insights and served as conversation captains. The session was an interactive conversation about leadership, inclusivity, and growth in the modern era. "Seeing all of you reminds me why I get up every morning and teach," Professor Stehlik reflected.
Deans Peter Henry and Geeta Menon joined alumni for a Deans' Luncheon on Gould Plaza, sharing some updates about the School and thanking alumni for their active participation in the Stern community. Following lunch, everyone joined together in  Paulson Auditorium for "9," the afternoon session hosted by Professor Scott Galloway with an impressive lineup of 9 speakers who each shared insights on a topical concept in 9 minutes. Professor Sonia Marciano started with Strategy, using examples from real life to describe how to use energy and effort efficiently. Professor Tensie Whelan spoke next, detailing the benefits of embedded sustainability for a business's bottom line. The Sharing Economy author, Professor Arun Sundararajan, discussed several examples of crowd-based capitalism to illustrate the end of institutional employment. Professor J.P. Eggers suggested we all fail more often, and outlined ways companies can harness the learnings that come from failure. FinTech Executive-in-Residence at Stern, Kathleen DeRose (TRIUM '11), broke down critical elements of Fintech, and made the analogy of the market to a highway, finance to tolls, and fintech to an EZ Pass. Professor Vasant Dhar discussed trust as it relates to the decision making of machines, and what this means for the future of automation. Current MBA candidate, Stacey Han (MBA '17), outlined the background and mindset of millennials, contending that their basic workplace goals are not so different than those of other generations. Professor Scott Galloway discussed the decline of brands as giants like Amazon and Google arbitrage data to minimize the need for purchasing decisions. Noted pianist, ELEW, closed out the program with superb renditions of Mr. Brightside and Sweet Home Alabama, and a champagne reception followed.
As the reception areas at Tavern on the Green were prepped for celebration, the 25th and 50th Reunion classes toasted over dinner at Tavern's restaurant. Following the meal, Dean Henry welcomed all classes to Tavern on the Green where music from an 8-piece band was already filling the patios. Alumni mingled over cocktails and food stations, capturing moments in the photo booth and enjoying the spring weather.
View photos from the weekend here
.
Reunion 2018
Next year's reunion for the class of 2017 and those in graduation years ending in '3 and '8 will be held April 27-28, 2018.