NYU Stern Hosts Ribbon Cutting Ceremony for the Kassin Center
—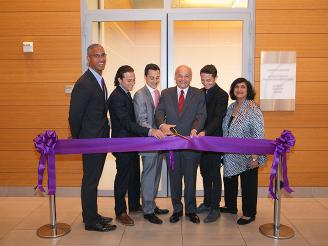 The Kassin Family has a legacy at NYU that spans multiple generations and their connection to the School has become deeply ingrained. This year, Jack A. Kassin and his sons, Albert (BS '01), Steven (BS '07), and Isaac (BS '19), made a significant gift to NYU Stern, to name the Kassin Center in the lobby of Tisch Hall. On Wednesday, June 7, with three generations of Kassins in attendance, NYU Stern hosted a ribbon cutting and plaque unveiling of the newly named space.
On behalf of the School, Dean Peter Henry expressed deep gratitude for the Kassin Family's generosity and devotion to making the world class education of Stern accessible to high achieving students. He applauded the talent and success of the Kassins, conveying his pride that they remain an integral part of the NYU community. "It gives me great pleasure to stand here, in this space that now bears your name, knowing that faculty, Nobel Prize winners, heads of state, CEOs, dignitaries, and thousands of students will walk through these doors," said Dean Henry.  
Dean Geeta Menon emphasized Stern's ongoing innovation and growth, citing the 12,000 applications to the Undergraduate College that were received for only 610 spots available in the class of 2021. "Your support has helped transform NYU Stern into one of the top five undergraduate business programs in the country," she said. "It is a pleasure to watch your family's continued success."  
The Kassins shared stories of what Stern has meant to them over the years. As a family, they value their heritage, and uphold traditions of generosity throughout their lives. Albert Kassin expressed his gratitude that Stern was a place where he and his siblings could find balance between tradition and innovation. "I believe that your character and values are shaped by the home you've grown up in. Stern truly served as a second home for my brothers and me in a pivotal time in our lives, and the values and lessons we learned were consistent with the home we grew up in," he said. Isaac and Steven Kassin spoke about the ways in which Stern supported and broadened their entrepreneurial spirits. "Our family has deep and longstanding entrepreneurship in our DNA. That, coupled with the integral business tools learned at Stern, was an opportunity we'll always be grateful for," said Steven Kassin. "Stern claimed to support my dreams and then proved it to me as I set off to start my business," added Isaac Kassin.  
Jack A. Kassin, surrounded by his wife, Joyce, children, grandchildren, and friends, emphasized the continued connection between the Kassins and Stern. He expressed his gratitude for the opportunities and decisions that allowed his family to be in a position to make this gift to name the Kassin Center. "My wife, Joyce, and I chose to follow the values and path of our parents before us, and we're grateful for our successes. We are grateful that we are able to transfer these values to our children and grandchildren, and that they are embracing them. The dedication of the 'Kassin Center' reflects and magnifies these values, hopefully makes an impact, and helps create opportunities for those less fortunate."