Elizabeth Elting (MBA '92), Founder and CEO of the Elizabeth Elting Foundation, Honored at the 40th Haskins Giving Society Award Dinner
—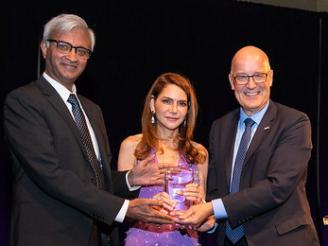 Alumni and guests gathered at Gotham Hall for the 40th Annual Haskins Giving Society Award Dinner, a celebration to honor NYU Stern's most generous donors and their commitment to the School. Guests at the packed event included many members of the Stern Alumni Council, the Stern Board of Overseers, and NYU's Board of Trustees, including the Chair William Berkley (BS '66).
This year's Haskins award was presented to Elizabeth Elting (MBA '92), founder and CEO of the Elizabeth Elting Foundation and co-founder of TransPerfect, the world's largest provider of language and business solutions. 
Dean Raghu Sundaram welcomed guests and introduced William Berkley and NYU President Andrew Hamilton, who delivered opening remarks. After sharing exciting innovations happening at Stern, Dean Sundaram thanked Haskins donors for their generous support. Before presenting the Haskins award to Elizabeth, Dean Sundaram shared a tribute video that highlighted her journey from being a Stern graduate student to becoming a superb role model who inspires budding entrepreneurs and exemplifies how business and philanthropy need not be mutually exclusive.   
In her acceptance remarks, Elizabeth shared how she started TransPerfect out of an NYU dorm room, and expressed gratitude for the award and the impact that her Stern education has had on her success. 
The Haskins Giving Society is essential to Stern's success. To learn more about Haskins, your gift's impact, and membership benefits, please visit our
Haskins page
or call (212) 998-4161.​
Event Photos
Elizabeth Elting Tribute Video