Investor, Philanthropist, and Co-Founder of The Home Depot, Ken Langone (MBA '60) Discusses His New Book, "I Love Capitalism!"
—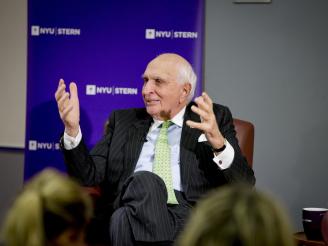 Founder and CEO of Invemed Associates and the co-founder of the Home Depot, Kenneth G. Langone (MBA '60), spoke to a standing-room only crowd of alumni, students, faculty and friends about his new book,
I Love Capitalism! An American Story
during a fireside chat with Dean Raghu Sundaram. Langone covered a number of topics including leadership, his time at the Home Depot, how curiosity fuels his love of learning, why he became a philanthropist and his recent gift to NYU Langone Medical School to help support free tuition for all medical students. 
A dedicated Stern and NYU alum, Langone serves on NYU's Board of Trustees as well as the NYU Medical Center Board of Trustees, of which he is the Chair. He is also a member of Stern's Board of Overseers, and has served on many corporate and nonprofit boards including General Electric, YUM Brands, the Promise Academy, and the Medal of Honor Foundation, among others. 
Raised by a working-class Italian-American family on Long Island, Langone expressed his belief in the American dream and why he's optimistic about the future. The enthusiastic audience was eager to ask questions and many stayed afterward to enjoy the cocktail reception following the talk.  
Check out photos from the evening and view the full discussion in the video below.
Event VideoEvent Photos