Kendra Gibbs, Assistant Director, Invest NYC SDG Initiative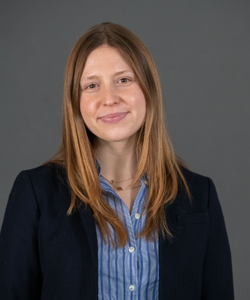 Kendra Gibbs is the Assistant Director of Invest NYC SDG Initiative at the NYU Stern Center for Sustainable Business, where she provides administrative and logistical support for the Initiative's activities, helps manage partnerships, and prepares communication materials and strategy.
Previously, she was an Administrative Aide for Stern's Business and Society Program, supporting them on logistics, events, communications, and program management. Prior to joining Stern, she was a FoodCorps AmeriCorps service member working to improve healthy school food access in Harlem. This experience motivated her to learn about how to leverage public and private sector partnerships to innovate solutions for sustainable development, especially related to urban agriculture. Her interest in public health, food systems, and climate change began while conducting research on the intersections of environment and health in India, South Africa, and Brazil, through an international honors study abroad program. 
She holds a B.A. in public health (government), magna cum laude, from Franklin and Marshall College and is currently pursuing her Masters in Public Administration from NYU Wagner with a focus on social impact, innovation and investment. 
Kendra can be reached at kgibbs@stern.nyu.edu