MBA Fellow Works with Microsoft to Investigate COVID-19 Era Privacy Issues
—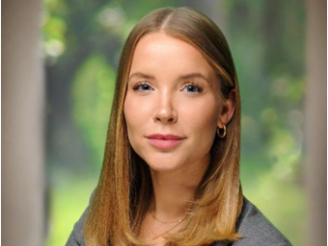 During the summer of 2020, Lily Warnke (MBA '21) interned at Microsoft as a
NYU Stern MBA Human Rights Fellow
. Read on to learn more about her time there:
Name:
Lily Warnke
Year:
 2021
Specialization: 
Sustainable Business and Innovation, Social Enterprise, and Business and Human Rights
Briefly describe your internship experience (org/company, department, your focus projects/deliverables, how you came to find this role).
As the Human Rights Fellow at Microsoft, I worked on a range of immediate needs as well as forward-looking strategic projects. My work included a series of memoranda on how to best ground emergency responses to COVID-19 in human rights principles. In light of evidence that nations around the world have derogated their human rights commitments in order to enact necessary emergency measures, I researched ways to protect civilians' privacy and rights. This research included in-depth interrogation of AI and ML applications for crisis response and accompanying surveillance systems. I also reviewed the limitations of data blinding suggesting a need for contact tracing data erasure to avoid future abuse of information.
In the area of longer-term strategy, I provided research and helped draft an updated human rights statement for Microsoft as well as recommendations for advancing Microsoft's offerings for the protection and empowerment of human rights defenders around the world through access to enabling technology, including AI and enhanced security services. The NYU Stern Center for Business & Human Rights was instrumental in providing me with the resources and support to grapple with these complex issues.
How did this experience shape the rest of your time at Stern? How did it prepare you for your future career path?
This experience was pivotal in focusing my learning priorities for the remainder of my Stern career. It shifted the direction I hope my career will take. Microsoft is an outstanding example of a tech company that genuinely believes in doing good for the world and is committed to excising any internal business practices that contradict that mission. This forward-looking approach to ethical business is made possible by a leadership team that is genuinely committed to—and informed about—human rights. The fellowship confirmed for me that this moral stewardship of business must be, and can genuinely be, a consistent commitment throughout a company, from the c-suite to product teams and even hiring managers.
Tell us about one fun fact or surprising/interesting concept you encountered.
I was pleasantly surprised by the amount of collaborative thinking and action big tech is engaged in. With technology, and especially AI and ML, advancing at the rate it is, it's impossible to know what the most pressing issues facing the sector will be even a year from now. The scale of these potential externalities requires knowledge sharing among industry leaders and outside stakeholders, including NGOs and policymakers. The team at Microsoft is constantly seeking input from peers and experts on best practices for protecting and promoting human rights.