MBA Fellow Operationalizes King Arthur Baking Company's Sustainability Goals
—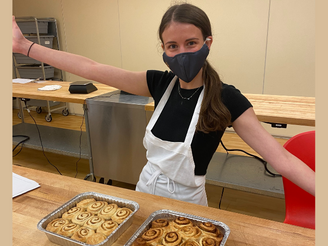 During the summer of 2021, Lucie Holliday (MBA '22) interned as an
NYU Stern MBA Sustainability Fellow
at King Arthur Baking Company. Read on to learn more about her time there:
Name
: Lucie Holliday
Year
: 2022
Specialization
: Strategy, Supply Chain Management and Global Sourcing, and Sustainable Business and Innovation
Briefly describe your internship experience (company, department, your focus projects/deliverables)
As the Sustainability and Operations Fellow at King Arthur Baking Company, I worked on short- and long-term projects to operationalize the company's ambitious sustainability goals and embed their purpose further upstream in the supply chain. Given that King Arthur's main product is flour, much of my internship focused on developing a strategy for the future of wheat and other grains, and specifically, how to produce them in a way that doesn't deplete our natural resources through regenerative agricultural practices. Regenerative agriculture is increasingly recognized as the best – if not the only – way to mitigate food production's significant negative impact on climate change and other environmental and social challenges. I conducted competitive landscape analyses and interviewed farmers and mills to understand the opportunities and challenges of adapting to new agricultural methods and how a company like King Arthur can best support that transition. I also evaluated the social and environmental risks for other key ingredients in King Arthur's products and made recommendations for revising the Supplier Code of Conduct to better mitigate these risks and collaborate with suppliers on sustainability goals going forward. 
How will this experience add value to the rest of your time at Stern? How did it prepare you for your future career path?
As an employee-owned benefit corporation, King Arthur embodies many organizational design principles heralded by our Stern professors as best practices for fostering a culture of mutual respect and integrating stakeholder rights. It was inspiring and illuminating to work for a 230-year-old company that is committed to continuous improvement and more deeply aligning its values and actions. As someone fascinated by food and agriculture, it was also very rewarding to apply this passion and intellectual curiosity to my work each day. There is so much promise in changing food production from part of the problem to part of the solution to combatting climate change, environmental degradation, human rights abuses, and other challenges, and I hope to continue to enable this transition as I pursue my future career path.