Marketing Professor Bruce Buchanan Hosts CSB's Randi Kronthal-Sacco on Sustainability and CPGs

It won't surprise you that a large portion of Stern students are interested in sustainable business. So what could be more engaging than a discussion of feel-good research findings backed up by a massive consumer database?
Randi Kronthal-Sacco
, Senior Scholar, Marketing and Corporate Outreach Center at CSB, spoke to students about sustainability marketing and consumer packaged goods (CPGs) in
Bruce Buchanan
's Fall 2019 Introduction to Marketing class.
At CSB, Randi leads the
Sustainable Market Share Index™
, a study based on five years of IRI's consumer purchasing data. This ongoing study released its first report last March, showing that half of the growth over a five-year period in 36 CPG categories was generated by the 14% of products that were marketed with sustainability claims. Yes, Virginia, the American consumer really does want to do the right thing.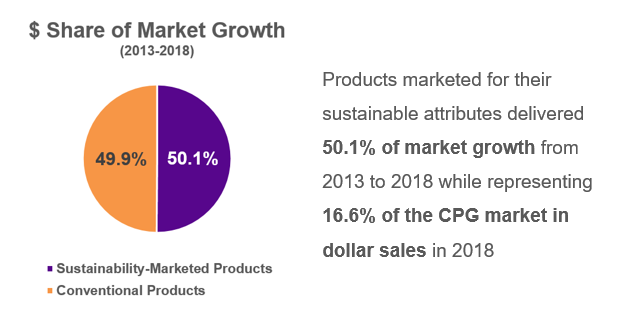 According to Prof. Buchanan, what resonated most powerfully with his students was not just finding that the good guys are winning, but its grounding in authoritative, original research. "Students pay attention when Randi talks about CPG trends. She brings tremendous street cred from her product
management career at Kraft and Johnson & Johnson, and she talks about the real-world process of studying a massive dataset and understanding the nuances in the data."
Kronthal-Sacco sees student interest in sustainability not as a Gen Z fad, but as their recognition of the next industrial revolution: "What other trend can you think of that is going to affect so many jobs in so many industries in such a profound way? The only trend that is as transformative as sustainability is, maybe, artificial intelligence."
CSB is delighted to share insights with Stern and NYU Professors from any of the original work done at CSB, including the following:
sustainablebusiness@stern.nyu.edu
to discuss. We look forward to collaborating with you.