Stern Alum Takes Home Top Prize at the CFDA + Lexus Fashion* Initiative
—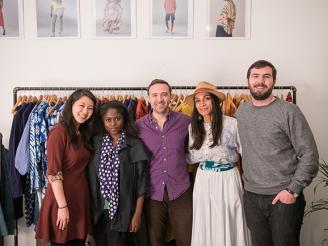 In today's global landscape, how can social enterprises create value for society and protect the environment while also remaining competitive? 
NYU Stern MBA students gained insight into this challenge through the Spring 2018 Stern Solutions course "Sustainability for Competitive Advantage," offered through Stern's 
Center for Sustainable Business
 and taught by Professor 
Tensie Whelan
, the Center's director.
Through the class, MBA students collaborated with the 
CFDA + LEXUS FASHION* INITIATIVE
, a sustainable business development program that works with select brands to provide education and mentorship, along with the potential to be eligible for awards underwritten by Lexus. MBA teams worked with designers in the program to help address specific business questions and challenges around sustainability.
"Our students got a crash course in how to assess sustainability in an industry, how to integrate positive environmental and social performance with profitability for a specific firm, and how to identify opportunities for sustainability driven innovation, marketing and growth," said Professor Whelan. "It has been a very inspiring and fun experience for all."
"Collaboration between education and industry is a catalyst for change and innovation," said Steven Kolb, President and CEO of the CFDA. "Connecting Stern's MBA talent to the participating designers within the CFDA + Lexus Fashion* Initiative is a great example of design and a business strategy working together to place ideas into action."
"Through our partnership with NYU Stern's Center for Sustainable Business, our designers have received strategic input and recommendations through a live case study, where they had the opportunity to problem solve and discuss challenges that many business owners face in this industry from a sustainability standpoint," said Rachel Espersen, Creative Programming & Partnerships at Lexus. "It has been a rewarding experience working with NYU to provide the CFDA + Lexus Fashion*Initiative designers with the opportunity to engage in meaningful conversation around sustainability and business development."
One of the teams — comprising MBA students Edward Dearie, Amy Gu, Shantel Sullivan, Gregory Waters and Lia Winograd — was paired with 
Studio One
Eighty Nine
, an artisan-produced fashion lifestyle brand and social enterprise co-founded by Stern alumna Abrima Erwiah (BS '02) and actress Rosario Dawson. Based between New York and Accra, Ghana, the brand curates, produces and promotes African and African-inspired content and clothing by working with artisanal communities specializing in traditional craftsmanship. Studio One Eighty Nine works to support the communities it collaborates with through job creation, education and skills training. 
"Social enterprises empower the communities they work with while creating sustainable business solutions," Abrima said. "It's empowering when artisans are able to use the money they have earned themselves to make purchases and support their communities. We focus on bridging the gap between markets, taking a local and international approach in all that we do."
The Stern MBA team consulted with Abrima to create a framework to assess the benefits, risks and success of current and future Studio One Eighty Nine initiatives from both a sustainability and a business perspective.
Studio One Eighty Nine took home the top prize at the end of the program. CFDA writes about it
here
.