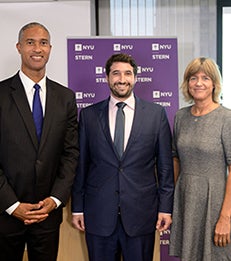 On September 19, the NYU Stern
Center for Sustainable Business
welcomed David Arison, global businessman and philanthropist, for a talk entitled, "Doing Good Is Good Business." Speaking to a packed room of faculty, students, alumni and practitioners, Arison described how The Arison Group, a diversified Israel-based company with businesses in finance, real estate, infrastructure, renewable energy and water, demonstrates leadership in sustainable initiatives through its values-based approach to business. Known as "The Doing Good Model," The Arison Group brings together leaders across all of its companies and organizations – from banking to infrastructure to philanthropy – in order to create positive impact on all levels – social, environmental and economic.
Dean
Peter Henry
introduced David Arison, commending his commitment to integrating sustainability into all aspects of his business strategy through "The Doing Good Model." "This values-based approach is a real-world example of the Center's mission to create a better world through better business," he said.
Professor
Tensie Whelan
, founding director of the Center, moderated a Q&A session with audience members following the talk, highlighting the ways in which the Arison business model can simultaneously impact individuals, organizations and society at large.
"Case studies have shown that products and services connected to strong values are ultimately more profitable," Arison said. "Business has the power to create change."
For more information, please visit the
Center's website
.
Watch the event
here
.
Recap written by Public Affairs team.