Student Recap: 2019 Sustainability Career Boot Camp
—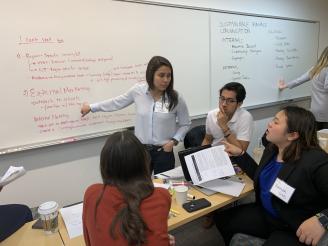 On February 8th, 2019, the Center for Sustainable Business hosted its second annual Sustainability Career Boot Camp for undergraduate students. The agenda included a foundational lecture on topics including sustainability materiality, strategy and communications, business model innovation, business case for sustainability, and career pathways and navigation. After a lunch break, students enjoyed a career panel featuring representatives from HSBC and then participated in a case exercise sponsored and led by the HSBC team. Below, student participants Cristian Cortes (BS '22) and Hannah Goh (BS '20) describe their experiences of the day.
Q: What was your favorite part of the Boot Camp and why?
Goh: My favorite part of the Boot Camp was working on our case with my group and my mentor, Ray Johnson, who was the VP of Corporate Sustainability at HSBC. After Ray had walked us through the case, we had a copious amount of time to talk about his experience with how employees can take time out of their workday to volunteer. He spoke about his trip to Ghana as part of HSBC's employee social impact initiative. It really inspired me to see how much HSBC cares about empowering employees' social impact initiatives.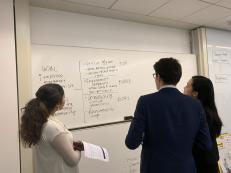 Q: If you were asked by another student why they should attend this event in the future, what would you tell them?
Cortes: I think what distinguishes this boot camp apart from any other event I have attended is the fact that you engage in issues that big corporations encounter in the rise of sustainability agendas. It exposes students, especially first-year students like myself, to these issues and allows us to work in groups to develop certain solutions to certain problems. 
Goh: I highly recommend attending the Sustainability Boot Camp. Spending the day with professionals at HSBC who worked in sustainable business was an excellent way to gain a holistic perspective of how a large financial firm can create social impact. The concepts that you learn in this boot camp can help you in any career whether it is in finance, marketing, consulting, or any other industry. I believe that building skills and knowledge in sustainable business creates value and competitive advantage for all individuals and industries.
Q: How did the presence of the HSBC team add to the overall Boot Camp experience?
Cortes: The presence of the team allowed me to become much more confident in my contributions. I felt I had certain ideas that, from my own experience, were useful in the case competition, and the team gave us insight as to how they manage to solve these issues on a daily basis. They also gave us feedback that allowed us to reflect on our work and see the pros and cons of our decision making.
Goh: Seeing all the professionals from many departments at HSBC was imperative for me to understand the presence of social impact in all divisions. During the Q&A panel, it was amazing to see how someone working on the banking side of HSBC would interact with the VP of Corporate Sustainability. The most important takeaway I took from the experts was that no matter what industry I want to pursue my career, I can always find a way to incorporate sustainable business.
Q: How does the Boot Camp stand out to you among other career development events you may have been to recently?
Cortes: This career development event stood out to me for several reasons. One was the duration. Since it was an all day event we were taken step by step through the whole process and not just thrown in the fire. Plus, you get to work with people that you've never met before who are interested in sustainability, which is becoming increasingly important in a time of need.