Spring 2021 MBA Courses in Sustainable Business
—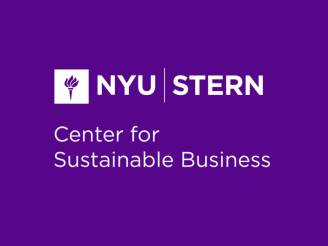 At a time of indisputable societal and environmental change, Stern MBA students specializing in Sustainable Business and Innovation will examine the unique role of the private sector and gain a broad understanding of how embedding sustainability into core business strategy benefits financial performance and management practices. To learn more about the Specialization and its course requirements, click here.

To assist MBA students as they design their schedules, CSB has assembled the following list of Sustainable Business and Innovation courses offered in the upcoming January & Spring 2021 semesters. *For more details about the new courses offered (marked with asterisks below), click here.
Foundational Course (Required for Specialization)
BSPA-GB.2305: Sustainability for Competitive Advantage
Professor Whelan | MW 12:30-1:45pm ET
This course is designed to assist students in developing the knowledge, skills, and perspective they need to understand and address environmental and social challenges in business, so that as leaders they reduce risk, create competitive advantage, and develop innovative services, products, and processes, all while building value for society and protecting the planet.

Economic Development & Social Entrepreneurship
BSPA-GB 2109: Sustainable Business Innovation in Costa Rica*
Professor Whelan | January term
The course is designed to foster a better understanding of corporate sustainability with a particular focus on Costa Rica, a country with a history of exceptional social and environmental leadership. During the course, we will review the latest trends in corporate sustainability, learn about Costa Rica and its unique role in sustainable development, and undertake a deep dive into the sustainability of two important sources of income for Costa Rica, coffee and tourism. 
Strategy & Management
MGMT-GB 2100: Inclusive Leadership
Professors Weisberg and Basch | M 6:00-9:00pm ET
This course will provide students with the skills and strategies to leverage their talents, including female talent, and in so doing to become more inclusive – and better - leaders. It will also identify new approaches that can bolster inclusive leadership. Women and men who take this course will be able to utilize the skills and knowledge taught when making their own career decisions, as well as when managing, being managed by, or collaborating with others of diverse backgrounds
Finance & Accounting
INTA-GB.3110: Investor Relations Strategy
Professor Beniluz | M 6:00-9:00pm ET
This course pursues a new and innovative approach to investor relations: It is fully research-based, offering modern tools and venues to disseminate and evaluate corporate information. Concepts and hands-on practices are blended to provide investors and managers with strategies for disclosing business activities, including Environmental, Social, and Governance & Corporate Social Responsibility initiatives. 
FINC-GB.3348: Investing for Environmental and Social Impact
Professor Godeke | W 6:00-9:00pm ET
This course targets students who want to better understand how investment mechanisms can be structured to solve critical social and environmental challenges and be well-positioned to work in the expanding impact investing industry. The class will draw from the fields of finance, microeconomics, theories of change, impact measurement and investment management to evaluate specific cases and investment tools in areas such as environmental markets and climate change, public finance, education, microfinance, health and poverty alleviation.
FINC-GB 2360: Sustainable Finance: Innovation and Trends in Capital Markets*
Professor Zazzara | R 6:00-9:00pm ET
The goal of this course is to analyze the interplay of Sustainability and Finance and the related new risks and opportunities. In fact, the intersection of ESG and Financial issues generates new risks over longer risk horizons, which should be factored into company valuation frameworks from fundamental analysis. However, understanding, measuring, and pricing these new sources of risk, and also assessing the related opportunities, presents challenges due to the many ESG-related issues coupled with data limitations. This course will provide a comprehensive survey of the wide-range of ESG investing strategies. 
*To learn more about this course, watch Professor Zazzara's introduction.
Issue Areas
BSPA-GB.2331: Law, Business and Human Rights
Professor Posner | T 6:00-9:00pm ET
Businesses are increasingly confronted with human rights challenges across their global manufacturing supply chains, such as privacy issues in the Information technology industry, security issues in the extractive industries, and child and forced labor in agriculture. Throughout the semester, this course will analyze these pressing issues and more. 
BSPA-GB.2308: Driving Market Solutions for Clean Energy*
Professor Gowrishankar | TBD 6:00-9:00pm ET
This course is designed to provide students with a rich understanding of the economy-wide energy transitions that are needed in the United States to help curb climate change, with an emphasis on how the private sector can drive such changes. As relevant background, the course will cover energy-related macroeconomic concepts and trends, and provide environmental and international context.
*To learn more about this course, watch a lecture sample from Fall 2019.