Undergrad Intern Explores Sustainability and Net Zero Missions at AGC Automotive North America
—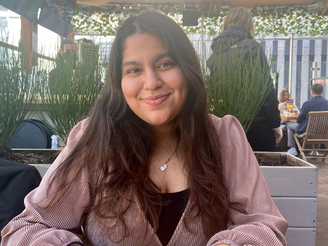 During the summer of 2021, Saima Sikka (BS '22) was a Sustainability Intern at AGC Automotive North America. Read on to learn more about her time there:
Name
: Saima Sikka
Year
: 2022 
Concentration(s
): Management and Sustainable Business 
Briefly describe your internship experience (org/company, department, your focus projects/deliverables, how you came to find this role)
This summer I interned at AGC Automotive North America as a Sustainability Intern. The role was centered around researching ways in which AGC can make changes to their supply chain and business processes to help with their goal of zero carbon emissions (by 2050) and a generally more sustainable business. During my 8 weeks at AGC, I also helped create several training modules for the company to help raise awareness within their own employees (information regarding the need for sustainability, best practices, business case for AGC to implement policies regarding sustainability, etc.) and communication material like infographics, newsletters and posters. 
I found out about this role after connecting with a recruiter from the company on LinkedIn. Having a conversation with her led me to find out about the opening in her company and I was able to interview for the position. 
Did any of your classes/projects at Stern prove helpful for and/or complement this experience?
Definitely! There so much I learned through all my management and sustainable business classes that helped me while I was at AGC. In one of my classes during junior year (Managing Change) we spoke a lot about organizational change and people's reaction to different methods of initiating change. The lessons learned through this class were so useful when I had to create communication and training material to essentially convince employees working at the company's factories that a change in their business operations (to work towards a more positive impact on the environment and society) is imperative and will only help the company succeed in the long run. 
How did this experience shape the rest of your time at Stern? How did it prepare you for your future career path?
My internship at AGC has helped me get a better understanding of the kinds of responsibilities one will have when working in the field of sustainability. I now have more insight into the back-end of decision making and research that takes place in companies, which in turn helps me have a more holistic understanding of all the readings and case studies we do in class. I've also been able to draw from my experiences at AGC and contribute a different perspective to class discussions!  Additionally, its also given me more clarity on my preferred path after graduation - social impact consulting.