Sindhu Janakiram (MPA '20) and Ignacio Paullier (MPA '20) Launch Refugee Integration Insights to Scale a Private Sector Solution to the Refugee Crisis
—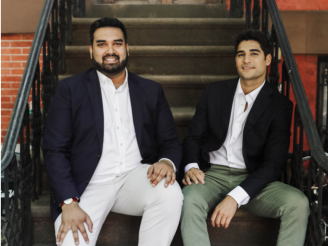 When
Ignacio Paullier
(MPA '20) volunteered at a Greek refugee camp in January 2018, he was moved by what he saw -- not only overcrowding and difficult living standards for families forcibly displaced from Syria and other nearby countries, but also the determination of these new refugees to regain their dignity and improve their livelihood. 
Due in part to this experience, Ignacio enrolled at NYU Wagner's Social Impact, Innovation, and Investment program, where he met
Sindhu Janakiram
(MPA '20), a former consultant who shared Ignacio's passion for refugee issues and sustainable finance. Along with Kyungye Hyun (MBA '20), they competed in the 2020 Kellogg-Morgan Stanley Sustainable Investing Challenge, which asks global grad school teams to create an innovative financial product that provides social impact. After competing against a field of 95 teams representing 50 countries, the team became the first to
win the 11-year-old competition
with a refugee-focused idea, Refugee ETF. Following their win, Ignacio and Sindhu founded
Refugee Integration Insights (RII)
, the first independent, specialized data provider of refugee data & insights.
As the refugee crisis grows (one report estimates 1 billion people could be displaced by 2050), corporations have taken action through refugee hiring, entrepreneur support, and education & skills training. For example, Starbucks committed to hiring 10,000 refugees by 2022, Generali has supported 700 refugee entrepreneurs, and SAP has provided coding workshops to over 60,000 refugees. These activities boost corporate diversity & inclusion performance, improve human rights practices, and mitigate social risks as the 'S' in ESG (Environmental, Social and Governance) becomes more relevant for companies and their shareholders & stakeholders. 
However, unlike corporate support on climate change or gender equality, this support has not been captured by the growing sustainable finance sector. Of the tens of trillions of dollars in global sustainable investments, less than $50 million is earmarked for refugees, with no investable products in the public markets. Sindhu and Ignacio launched RII in order to close the refugee data and investment gap. 
RII is the first company to collect and structure corporate refugee data, score companies on their refugee support, and develop indices listing the top-rated companies on refugee corporate action. After launching in Fall 2020, the nonprofit startup is partnering with German index company Solactive on their first index, the Refugee Lens Index (RLI) Top 50, which lists the top-rated ESG screened companies on refugee corporate action. RLI Top 50 companies significantly improve refugee livelihoods while outperforming the S&P 500 and STOXX 600 for 5 years.
To find out more about the growing refugee crisis, how corporations are helping solve it through refugee economic integration, and how RII can scale these efforts,
read their first blog here
. You can watch Sindhu's recent appearance on a World Refugee Day panel about the role that climate change is playing in exacerbating the refugee crisis
here
.