Interning at Nespresso
—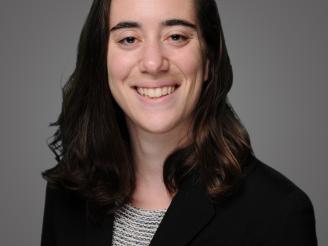 During the summer of 2019, Leah Naidorf (MBA '20) interned at Nespresso, through 
NYU Stern's MBA Sustainability and Human Rights Fellowship
. Read on to learn more about her time there:
Tell me about your summer internship experience. Where did you work and what types of projects did you work on?
This summer, I interned at Nespresso in their B2B Marketing Department. My project was relaunching their B2B recycling program, in which Nespresso's B2B clients can return their used aluminum coffee capsules to one of Nespresso's partner recycling facilities. This program, completely funded by Nespresso, gives these capsules a "second life" via recycling the aluminum and composting the coffee grounds. I first outlined the program's current processes and stakeholders, interviewing current B2B clients about their recycling engagement, and outlined recommendations for streamlining the program. Additionally, I worked with a branding agency to create marketing collateral to educate current and new accounts about Nespresso's long-standing commitment to sustainability through their value chain. 
How did sustainable business practices play a role in your internship?
Nespresso lives and breathes sustainable business practices. Starting from sourcing their coffee, they are committed to fair and ethical standards for farmers around the world, even investing in reviving coffee production in areas affected by weather-related or political instability. The coffee is sealed in aluminum capsules, a recyclable material, and they currently have the capacity to recycle all of the capsules sold in the United States. Sustainability is even considered when choosing new boutique locations and offices. When moving to their new US headquarters this past year, they removed all plastic/paper ware from their kitchens and installed energy-efficient dishwashers.
What were your top three learnings from your internship?
During my internship, I learned the importance of developing concrete key performance indicators when building a project. Analyzing current engagement with the recycling program, and key improvement areas, I was able to develop ambitious yet attainable KPIs that could be tracked and easily understood by anyone at the company. This helped clarify the project's goals for the rest of the summer. The summer also reinforced the value of creating an internal network. I made a big effort in getting to know stakeholders across Nespresso, vendors, and clients during my summer, which allowed for project buy-in. These stakeholders were eager to hear about the project's progress, which ensured that it could continue moving forward once my internship ended. Lastly, I learned the importance of engaging employees in a company's sustainability goals. At one of my training sessions, in which boutique managers from around the country spent a week in the NY office, every attendee had a sustainability-related question over the two-day session. It was exciting to see this engagement across all functions of the organization and allows Nespresso to achieve its sustainability goals in a more authentic way.
Did your summer internship experience change your thoughts about your career trajectory moving forward?
My summer experience reinforced my commitment to working at a company that is committed to sustainable business practices in all aspects of its operations. This commitment is vital in motivating employees, engaging customers, and creating value for both society and shareholders.