Interning at Bloomberg L.P.
—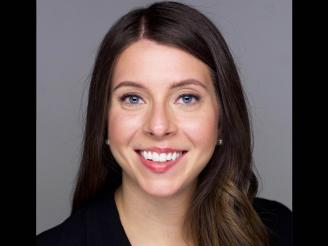 This summer Julianne DeMarco, MBA Class '19, interned at Bloomberg L.P.'s Sustainable Business and Finance Group, through 
NYU Stern's MBA Sustainability and Human Rights Fellowship
. Read on to learn more about her time as an intern:
Bloomberg Internship (Summer 2018)
Tell me about your summer internship experience. Where did you work and what types of projects did you work on?
This summer, I interned in Bloomberg L.P.'s Sustainable Business and Finance Group.  I was in the Sustainable Finance portion and worked directly with the Head of Product Strategy.  The team acts as an internal consultant to the business units, providing expertise and guiding them in implementing Bloomberg's ESG strategy.  My first project was to assist with the preparation of the annual internal conference, where the relevant contacts in the businesses get together to share what they've been working on and their plans for the upcoming year.  This was an especially interesting time to be involved as Bloomberg is looking for ways to expand outside of traditional terminal sales. My group hosts the conference, and I worked on providing the content that was presented on our behalf.  Once the conference was over, I began to work on a project that involved digging into the corporate governance of specific companies, which I found particularly interesting as my pre-Stern career provided extensive exposure to executive compensation.
What was the most valuable thing you learned at your internship?
It's hard to choose just one! The summer was an amazing experience, I learned so much about sustainability, business, and myself.   On a granular level, I gained exposure into what organizations are thinking – both in the asset manager/owner and corporates spaces – and how they are using the data that Bloomberg provides. This insight is invaluable as I think about future career opportunities, and how to position myself.  Investors are interested in making sustainable investments and are pushing the market to provide opportunity, which was exciting to see. Higher level, I became more comfortable with ambiguity. Sustainable Finance is still growing, and that comes with undefined roles, gaps in data, and unclear parameters.  But, it also highlights opportunity and allows involved parties to craft new roles driven by their interest.
Did your summer internship experience change your thoughts about your career trajectory moving forward?
I am more confident in my decision to pursue an ESG focused career after seeing the scope of business functions that touch sustainability, and the expected growth in the field.  However, the summer helped me realize how little I actually knew about the career landscape. Originally, I thought that most of the opportunity was in impact investing, and fell within specialized firms; now, I realize that there is opportunity within traditional asset managers as well.  I also observed the spectrum that exists in terms of the balance between quantitative and sales roles and decided that I want to start closer to the quantitative side in order to maximize my learning. Lastly, I learned that it is still imperative to make a financial case for sustainability, as ultimately that is what investors are looking for.