MBA Fellow Researches Calvert's ESG Investments to Inform Corporate Resilience
—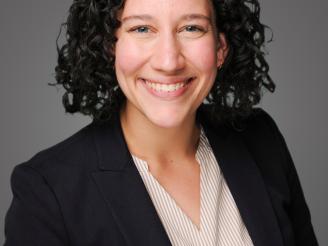 During the summer of 2020, Rebecca Meyer (MBA '21) interned at Calvert Research and Management, through 
NYU Stern's MBA Sustainability and Human Rights Fellowship
. Read on to learn more about her time there:
Name:
 Rebecca Meyer
Year:
 2021
Hometown:
 Silver Spring, MD
Specialization:
 Sustainable Business and Innovation, Strategy, and Leadership and Change Management
Briefly describe your internship experience (org/company, department, your focus projects/deliverables, how you came to find this role)
Over the summer, I interned on the Research Team at Calvert Research and Management, a responsible investing fund. My central project was to assess corporate responses to COVID-19 across the Packaged Food & Meats industry, the Restaurant industry, and the Financial Services sector to help build the firm's understanding of how corporate resilience is connected to overall ESG performance. I primarily examined actions within the social pillar, looking at how major companies treated employees, customers, suppliers, and communities facing a dire public health threat. In addition, I also researched how exposure to prison-derived revenue streams may increase a company's financial risk.
In your own words, why do you think this work is important?
It was exciting to work for a company that has long been a pioneer in ESG investing, a field that has attracted increased attention even in the past year. In my work to develop Calvert's working knowledge of corporate resiliency, it struck me that uncertain externalities will only continue to grow more significant in the years to come. Though I know we all hope 2020 is an outlier, looking at the crises that companies have faced this year – in public health, financial catastrophe, systemic racism, wildfires and natural disasters, and significant civil unrest – it is evident that the most successful companies in the long-term will intentionally build in resilient practices. During the COVID-19 crisis, such practices have included investing in talent to retain a creative, adaptable, and high-performing workforce, and guaranteeing medical benefits and sick leave to protect employees from workplace outbreaks, among many others.
How did this experience shape the rest of your time at Stern? How did it shape your future career path?
This experience offered me a birds-eye view of a wide range of companies all working to incorporate ESG-centric goals with varying levels of success. My research on the food industry in particular has helped prepare me for my second year at Stern and my career afterwards, as I focus more deeply on pursuing a career in the sustainable food space. From my vantage point looking across the entire food sector, I found burgeoning trends, challenging headwinds, and surprising gaps in ESG performance within the food sector, offering me great insight as I prepare for my post-Stern career.