Spring 2021 Undergrad Courses in Sustainable Business
—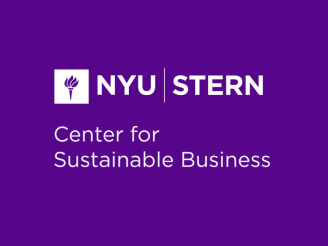 At a time of indisputable societal and environmental change, Stern undergraduate students concentrating in Sustainable Business will examine the unique role of the private sector and gain a broad understanding of how embedding sustainability into core business strategy benefits financial performance and management practices. To learn more about the Concentration and its course requirements, 
click here
.
To assist undergraduate students as they design their schedules, CSB has assembled the following list of Sustainable Business courses offered in the upcoming Spring 2021 semester. *For more details about the new courses offered (marked with asterisks below), 
click here.


Foundational Course (Required for Concentration)
BSPA-GB.2305: Sustainability for Competitive Advantage
Professor Rifkin | MW 9:30-10:45am ET
This course is designed to assist students in developing the knowledge, skills, and perspective they need to understand and address environmental and social challenges in business, so that as leaders they reduce risk, create competitive advantage, and develop innovative services, products, and processes, all while building value for society and protecting the planet.


Issue Area
BSPA-UB 41: Social Entrepreneurship
Professor Davis | MW 11:00-12:15pm ET
Social Entrepreneurship is an emerging and rapidly changing business field that examines the practice of identifying, starting and growing successful mission-driven for profit and nonprofit ventures, that is, organizations that strive to advance social change through innovative solutions. This course is designed to provide a socially relevant academic experience in order to help students gain in-depth insights into economic and social value creation across a number of sectors/areas including poverty alleviation, energy, health and sustainability. Essentially, students will have the opportunity to find and test new ideas and solutions to social problems, create sustainable business models (using lean startup principles), identify funding options and alternatives, learn how to measure social impact as well as scale/grow a social enterprise to name a few. We provide students with a toolkit and frameworks that can be used in a social venture or within an existing organization to influence social change.
BSPA-GB 2308: Driving Market Solutions for Clean Energy
Professor Gowrishankar | M 6:00-9:00pm ET
This course is designed to provide students with a rich understanding of the economy-wide energy transitions that are needed in the United States to help curb climate change, with an emphasis on how the private sector can
drive such changes. As relevant background, the course will cover energy-related macroeconomic concepts and trends, and provide environmental and international context. It will draw on the instructor's diverse experiences, readings and other media, classroom discussions, case studies, visiting speakers, and group projects, to explore and debate how such ambitious but necessary transformations may be brought about. *This is a graduate-level course. Undergraduates should contact their Academic Advisor to request to register for this course. 
BSPA-UB 47: Global Business & Human Rights
Professor Gu | TR 2:00-3:15pm
This is an advanced-level class for juniors and seniors that will focus on human rights law and practice and how the human rights framework applies to business. Students will be exposed to theoretical foundations of human rights, the evolving role of business in modern society, and case studies of how companies have been challenged by human rights issues in various industries.
BSPA-UB 50: Entrepreneurship in Sustainable Protein
Professor Taparia | W 6:20-9:00pm
This course provides an overview of the current risks associated with animal agriculture including environmental impacts (waste, water, greenhouse gas emissions, and land use), human health impacts, and issues of global food security. The course then moves quickly into opportunities in sustainable protein. Students will become experts in understanding different types of sustainable proteins (e.g., differences between plant-based, fermentation, clean meat), and some of the challenges to this market, such as recent legal cases challenging the use of the terms 'meat' and 'milk'. In addition to food, there will also be discussion of fabrics (e.g., leather and silk substitutes). 
MULT-UB 24: Business, Economy and Policy in the Midst of Covid-19
Professors Acharya and Berner | R 6:00-9:00pm
The global pandemic has adversely affected individuals, businesses, consumers, markets, and governments, creating the most adverse recession and unemployment levels of our times, and bringing in response expansive fiscal and monetary policies. In this course, we will explore the origins and spread of the pandemic and the ways in which it has affected economies and markets. While the pandemic is unique in its own right, we will examine lessons that can be learnt from the history of pandemics as well as of financial crises caused by other types of aggregate shocks.
ECON-UB 225: Business and the Environment
Professor TBA | MW 2pm-3:15pm
This course is a broad overview of pressing questions regarding the relationship between business and the environment. It aims to give students a look at the major drivers of environmental change, the shifting roles of government and non-government organizations (NGOs), as well as ways in which there are business responsibilities as well as opportunities. It emphasizes the unique role of business in a rapidly changing, globalized world and gives an overview of environmental issues business leaders are facing and will face in the future ​​​​​​.


Discipline
BSPA-UB 48: Theory & Practice of Sustainable Investing
Professor Krosinsky | MW 3:30-4:45pm
1st century investors face a broadening and deepening array of Environmental, Social, and Governance (ESG) risks and opportunities. Climate change, water scarcity, community conflict, resource depletion, supply chain breakdowns, worker well-being and economic inequality pose material challenges that make sustainability an imperative for successful investors and the companies they choose to invest in. This course will couple theory with the practice of Sustainable Investing (SI). We will examine current ESG investment and corporate strategies, trends, future scenarios, players, and frameworks and integrate that theory with practical investment performance analysis, metrics, and studies of data, screens, asset classes, and diversification.​​​​​​​


Practicum
BSPA-UB 70: Social Innovation Practicum (P)
Professor Taparia | W 2:00-4:45pm
This course is designed to help students gain actionable insights into the nexus between economic and social value creation. Specifically, the purpose is to provide students with hands-on exposure to the entrepreneurial pursuit of social impact and innovation. As a result of this course, students will gain: Increased ability to recognize and critically assess various forms of social enterprise strategies as tools of economic development and social transformation; greater understanding of the challenges of growing and sustaining a social enterprise, as well as special insights into enterprise development and growth; improved consulting skills, including project planning, issue and stakeholder analysis, formulation of strategic and tactical recommendations, and client relationship management.