Tensie Whelan on the ROI of Sustainability
—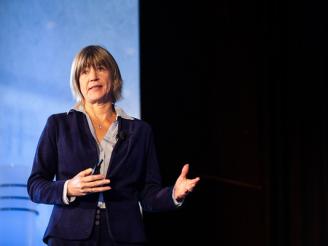 NYU Stern's Center for Sustainable Business Director Tensie Whelan spoke at the New Metrics '18 Conference about the Center's "Sustainability Moneztization Framework tool for unlocking growth oppurtunities."
A quote from the article: "Whelan emphasized how important engaging the ranchers was to opening up new possibilities, many of which are interrelated. For example, in taking more control and improving management practices, such as lower use of fertilizers, they saw better cost management. Innovating agricultural techniques with things such as pasture rotation and fencing leads to cost reduction. And when those techniques increase land productivity, ranchers don't need to rent out land additional land to support their own holdings; they can produce on their own." 
To read the full article, click
here
.