Responsible Business in the Age of COVID-19 at the Financial Times Global Boardroom
—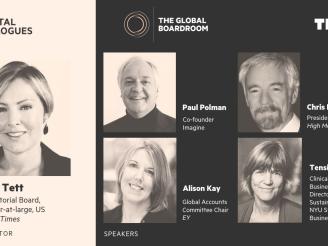 According to Paul Polman, the cost of inaction is higher than the cost of action, and some companies are not pulling their weight. However, business is now facing oblivion as a result of the coronavirus pandemic and the resulting global recession. How can a corporation balance purpose and profits during the crisis? If paying your workers bankrupts the company and they lose their jobs permanently, is that better than laying them off temporarily and rehiring them?
This discussion on May 13, 2020 explored responsible business best practices in these unprecedented times, featuring NYU Stern CSB Director 
Tensie Whelan
, EY Global Accounts Committee Chair, 
Alison Kay
, High Meadows Institute President and CEO 
Chris Pinney
, and
former Unilever CEO 
Paul Polman
. The discussion was moderated by 
Gillian Tett
, Chair, Editorial Board, and Editor-at-large, US, Financial Times.
To watch the discussion: Visit the
Financial Times website here
. You will be prompted to register to receive an access code. Once you complete registration, enter your access code, click on the "Day 2" tab, and look for the recording titled "Moral Money - Responsible Business in the Age of COVID-19."
Discussion Highlights
ESG strategy is not only surviving but strengthening.
CP: We're seeing ESG-focused teams kept in tact and even growing. This is an opportunity to focus on systemic challenges we face, and move to the core of business strategies and practices.
TW: Prioritizing ESG principles is just good management. Investing in sustainability increases innovation, talent retention and decreases risk. Companies who focus on ESG will have more resilient supplier partnerships and better understand their challenges and risks such as COVID-19 and climate change.
Embedding sustainability into core business strategy is critical to rebuilding.
TW: As we rebuild after COVID-19, companies looking to rebuild sustainable, productive supply chains must move from a transactional to a partnership approach. Also, government subsidies should be tied to investments in sustainability, such as creating a more secure workforce and retrofitting factories for better energy management.
PP: You cannot compartmentalize ESG. The COVID-19 crisis has implications across ESG issues. Similarly, climate change is an S issue. We're not fighting it just for the sake of it.
There is reason for optimism. 
TW:
My students, for whom climate change will be a defining issue, are committed to working in line with their values and investing in ESG. This generation will create the change needed to move forward on this planet.
About the Conference
The FT Global Boardroom (May 12-14, 2020) was a 2.5 day free-to-view virtual conference gathering our most senior journalists and leading figures in global policy, business and finance to discuss the impact of the coronavirus pandemic and what is required to shape the conditions for recovery. Other featured speakers include 
Al Gore
, Former US Vice President; Chairman, Generation Investment Management, 
David Rubenstein
, Co-Founder and Co-Executive Chairman, The Carlyle Group, 
Soumya Swaminathan
, Chief Scientist, World Health Organization, and 
Michael O'Leary
, CEO, Ryanair.