MBA Fellow Advances Sustainability Solutions at Applegate
—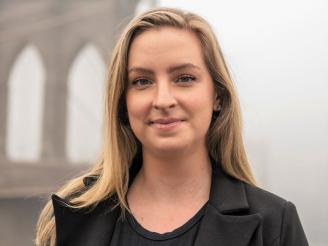 During the summer of 2021, Madeline Cleland (MBA '22) interned as an
NYU Stern MBA Sustainability Fellow
at Applegate. Read on to learn more about her time there:
Name
: Madeline Cleland
Year
: 2022
Specialization
: Sustainable Business and Innovation, and Entrepreneurship and Innovation
Briefly describe your internship experience (company, department, your focus projects/deliverables)
Maddie worked at Applegate, the natural and organic meat company, as a Sustainability Solutions Intern this summer. Her role focused on Applegate's Change Compass tool, an internal dashboard to inform the company's product development and optimization efforts related to sustainability. Maddie analyzed Applegate's product portfolio against a range of sustainability metrics (including human health, environmental impact, and animal welfare) in order to refine the Change Compass tool, and delivered a series of product optimization recommendations to the President and Senior Leadership team with the goal to enhance cohesion with Applegate's mission. Maddie managed the relationship between Applegate and team of consultants to improve product scores using a proprietary sustainability database and algorithms.
Another part of her role was to advance discussions between NYU Stern CSB and Applegate on a potential Return on Sustainability Investment™ (ROSI™) collaboration by engaging Applegate employees who would be involved in ROSITM analyses, from their finance, animal welfare, and R&D teams, among others. To this end, Maddie worked jointly with a representative from CSB to co-host a ROSI™ information session for Applegate employees, in order to familiarize Applegate teams with the terminology and processes related to ROSI™. Maddie also served as an intermediary between CSB and Applegate as she scoped out early ideas for potential ROSI™ areas of focus within CSB's food and agriculture framework, and worked under the guidance of CSB to map initial practices at Applegate with associated ROSI™ benefits. She presented this thinking with CSB to the President of Applegate and his leadership team, to inform a strategic discussion on areas of Applegate's mission that might benefit most from the kind of monetization data and estimates that a ROSITM analysis would yield.
How will this experience add value to the rest of your time at Stern? How did it prepare you for your future career path?
This experience allowed Maddie an opportunity to translate the lessons and skills she developed in her classes into tangible results in a work setting. Specifically, the software she learned in Managerial Data-Driven Decision Making enabled her to analyze large data sets and pull out trends and actionable insights using the Change Compass data. Additionally, Maddie was grateful for the experience working on ROSI™ at Applegate as part of her internship, as it provided her with a tangible way to translate her learnings from school into a practical real-world project led by CSB. 
The fellowship prepared Maddie for her future career as it gave her initial experience in the industry she is targeting for a career post-graduation. After six years in international development non-profits and philanthropy pre-Stern, the summer experience working at a for-profit company with values consistent to her own was enlightening. As Maddie continues with her specializations in marketing and sustainability while at Stern, this experience was pivotal in providing her a unique perspective for how authentic marketing is done at a mission-based company like Applegate.