MBA Fellow Redesigns Brand Strategies at BBMG
—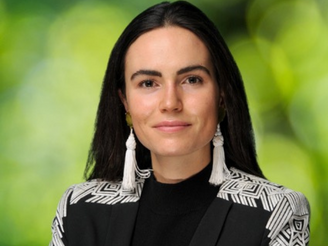 During the summer of 2021, Marta Alvarez Pascual (MBA '22) interned as an
NYU Stern MBA Sustainability Fellow
at BBMG. Read on to learn more about her time there:
Name
: Marta Alvarez Pascual
Year
: 2022
Specialization
: Finance and Sustainable Business and Innovation
Briefly describe your internship experience (company, department, your focus projects/deliverables)
By working at BBMG, I learned the importance that companies play in society from a climate change perspective and their influence in the community. During my internship, I redesigned the brand strategy for an apparel brand by conducting quantitative & qualitative research to understand consumer behavior and brand growth opportunities with the social impact platform. Moreover, I analyzed the competitive landscape and identified the brand territories for the new strategy to ensure an effective launch, studied new growth opportunities for a beauty skincare brand, and developed sustainability practices.
My summer project consisted of working with BWPC (Black Women's Player Collective). I developed strategic ideas, reviewed background materials, and assisted in developing campaign and activation ideas for a non-profit that promotes racial justice for Black women soccer players. Successfully presented our proposal for the new brand identity and marketing campaign.
Why do you think this work is essential for the future of this company, this industry, and the business world in general?
The only way to address climate change is by summing everybody's efforts. Businesses play a huge role in this. It will be vital that they work hand in hand with governments and society to shift the narrative and rethink t their corporate goals, so they align with customers' sustainable needs.    
Tell us about one fun fact or surprising/interesting concept you encountered.
I loved working with BWPC because I learned about racial injustice in soccer for Black Women. I got the opportunity to talk with three moms in our qualitative research. It was very fulfilling to understand and approach this with curiosity. This project was rewarding for me; I felt part of a movement!