New Research by CSB and Edelman Identifies Most Effective Sustainability Messages Across Wide-Ranging Consumer Audiences
—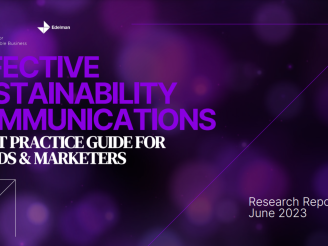 The NYU Stern Center for Sustainable Business (CSB) and Edelman today released new, first-of-its-kind research, "Effective Sustainability Communications: A Best Practice Guide for Brands & Marketers," uncovering which environmental sustainability claims are most motivating to consumers.  The study was done in partnership with nine leading global brands spanning apparel, food and beverage, technology, household items, and personal care. Results demonstrate that effective sustainability messages have a powerful amplifier effect, increasing brand reach and relevance between 24-33 percentage points compared with a high-performing category message alone.
Premiered exclusively with a main stage panel today at the Cannes Lions Festival by Randi Kronthal-Sacco, Senior Scholar at NYU Stern Center for Sustainable Business, and Edelman's CEO Richard Edelman, the study shows that by dissecting the top performing claims across all nine brands, researchers could extract best practices that all marketers can use to unlock the potential of action-backed sustainability messaging to drive growth.  
"At NYU Stern CSB, we have documented the growth in market share for sustainable products, but we need that growth to scale much faster through increased consumer demand and adoption from mainstream brands. Together with Edelman, we have identified a roadmap for how to commercialize sustainability through effective communications - what to say, where to say it, and to whom," said Tensie Whelan, Founding Director of NYU Stern Center for Sustainable Business.
Researchers partnered with R&D, innovation, sustainability, and marketing teams for all nine brands including Mars (Dove Chocolate), The North Face, Unilever (Hellmann's and Dove Beauty & Personal Care) and HP, Inc., to devise 30+ custom category relevant and environmental sustainability claims for each brand, to gauge their overall appeal and ensure learnings could be applied across categories. 
Responses and reactions to these claims from 2,700 persons showed a wide-range of consumers are attracted to simple, jargon-free sustainability messages that connect directly to them, their family, and the world around them. 
In summary, the research showed:
Category claims (e.g., "tastes great") are paramount and non-negotiable. Consumers look for benefits that are germane to the category. Overall, category claims were the most compelling claims tested.

Sustainability claims yielded a significant benefit, with all nine brands seeing a sustainable claim as either the most appealing (2 of 9 brands) or the top most in consumer appeal (7 of 9 brands), outperforming other category claims. 

Across all nine brands, sustainability claims significantly expanded brand reach (+24 - +33 ppts) by bringing in new consumers.

Consumers care most about themselves and their family. Strongest performing claims related sustainability benefits to the impact on individual lives, families, and experiences.

Consumers also reacted strongly to claims regarding animal health, sustainable sourcing, local sourcing, and children and future generations. Audiences also cared about claims regarding support for local farmers.  In fact, leading with "local farmers" improved the performance of claims connected to the growing movement of holistic [non-industrial] approaches to agriculture.

Consumers were notably less interested in the scientific reasons behind a brand's sustainability unless tied to a self-centered reason to care or related to the outcome of specific action(s)

. For example, "reduced air pollution" alone versus "reduced air pollution for cleaner air to breathe."

No matter the category, consumers will purchase products that are made without harmful ingredients to human health and resonant claims such as "grown without harmful ingredients" or "made without chemicals harmful to humans/the environment."

With the exception of 100% recycled packaging claims, sustainable packaging claims did not resonate with consumers absent an additional reason to care, such as "micro plastic-free packaging for human and ocean health." 

TikTok has an outsized impact on Gen Z as a channel of influence.
The research also showed that the top performing claims had no demonstrable demographic or psychographic differences nor political polarization; in fact they were largely unified across party lines and age groups.  
"Every leader thinking twice about sustainability on the grounds of it being 'divisive' needs to know this: If you communicate sustainability the right way, it will appeal across political affiliation, income, gender, education levels, and age groups," said Richard Edelman, CEO Edelman. "Sustainability is an amplifier and if brands embrace it, we can exponentially increase growth and trust."
"We've demonstrated the commercial case for sustainability for mainstream brands. The sustainability amplifier effect is real and can help brands reach and engage more people. We hope this mobilizes brands and marketers to act and put sustainability at the core of business strategy, innovation, and communications," said Randi Kronthal-Sacco, Senior Scholar at NYU Stern Center for Sustainable Business and lead researcher on the project.   
Kronthal-Sacco cited an appealing example of the category and sustainability claims combined: "100 percent sustainably farmed for great taste" for a food brand.
About NYU Stern Center for Sustainable Business
The NYU Stern Center for Sustainable Business (CSB) was founded with the vision of a better world through better business. CSB empowers leaders to shape the new sustainable business paradigm, unleashing the transformative potential of business to solve societal challenges at speed and scale. Through practical research, innovation in education, and corporate engagement, CSB works across the business ecosystem to embed sustainability core to strategy, achieving breakthroughs in financial performance while creating positive environmental and social impacts. Learn more at www.stern.nyu.edu/sustainability and follow on LinkedIn @NYU Stern Center for Sustainable Business.
About Edelman
Edelman is a global communications firm that partners with businesses and organizations to evolve, promote and protect their brands and reputations. Our 6,000 people in more than 60 offices deliver communications strategies that give our clients the confidence to lead and act with certainty, earning the trust of their stakeholders. Our honors include PRovoke's Global Agency of the Year (2022); PRWeek's Global Agency of the Year (2022); Cannes Lions Grand Prix awards for PR (2016) and the Entertainment Lions for Sport (2021); a Gold Lion in the Sustainable Development Goals category (2022); Cannes Lions Independent Agency of the Year for the Entertainment Track (2021); Cannes Lions Co-Independent Agency of the Year for the Good Track (2022); and Advertising Age's 2019 A-List. Since our founding in 1952, we have remained an independent, family-run business. Edelman owns specialty companies Edelman Data x Intelligence (research, data), Edelman Smithfield (financial communications), Edelman Global Advisory (advisory), and United Entertainment Group (entertainment, sports, lifestyle).
Note to Editors:   The full presentation is linked HERE;  a detailed infographic of key findings is linked HERE.
# # #
Media Contacts:
Alison Berg, NYU Stern Center for Sustainable Business
alison.berg@stern.nyu.edu | +1 609.356.2891
Carolyn Ritter, NYU Stern Public Affairs
critter@stern.nyu.edu | +1 212.998.0624
Michael Bush, Edelman
Michael.Bush@edelman.com |+1 646.281.4860